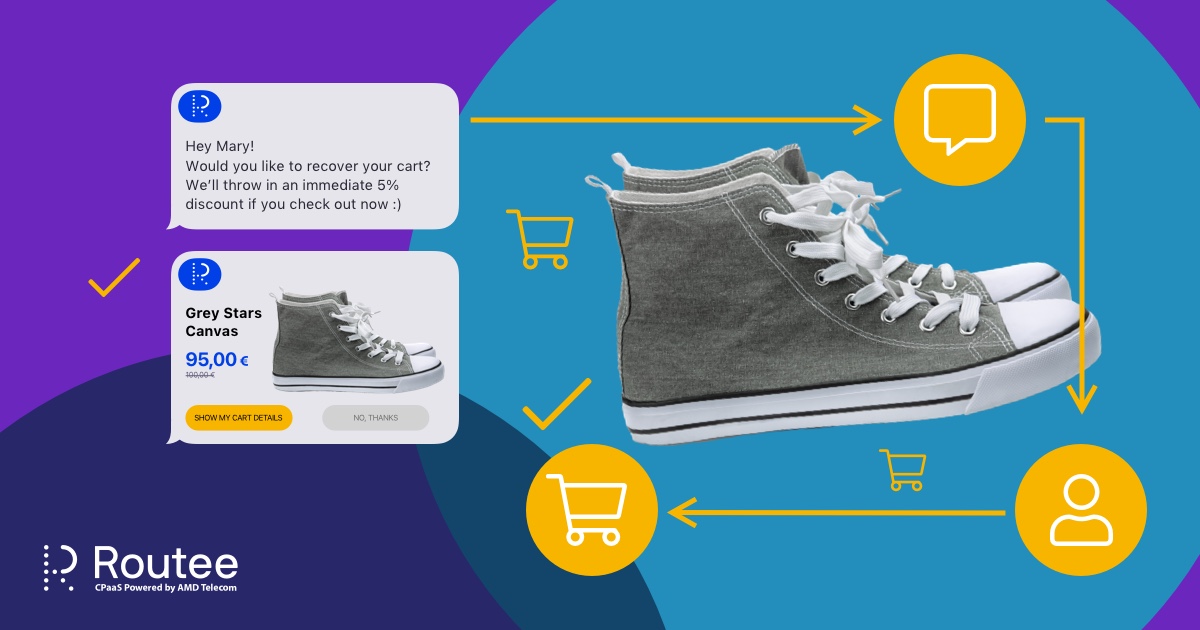 Timing and Trust: 7 Tips to Slash Your Cart Abandonment Rates
Reading Time:
6
minutes
The need for a new approach in e-Commerce
E-Commerce is one of the driving forces for the global economy and, as it evolves in its mobile reiteration, it continues to gain ground over traditional brick-and-mortar shops and long-standing retail institutions with its immediacy and ease-of-use.
Purchasing goods from the convenience of your living room calls for a host of new marketing strategies to capture the hearts and souls of potential customers. Without the visual impact of walking into a store, with goods overflowing on the shelves and a close-knit team of smiling and accommodating assistants, e-marketers need to invent new mechanics to entice consumers and increase sales.
Transferring the shopping experience to a small screen window has its challenges. However, e-commerce is slowly but surely coming of age for millions of customers around the world, and so are its marketing strategies.
As the end goal of any commercial enterprise remains the same, to make a sale, internet stores have come up with a set of tools that help stir the interest of new and existing customers in products and services offered online.
Trust makes customers click online
Research has shown that one of the driving reasons that spur customers into action, when buying goods and services online, is trust. Online customers are usually more reluctant to spend their money at the click of a button if the business they interact with does not inspire confidence and trust through its layout, quality of content, and, generally, through the way they communicate their brand image.
The actual content of a website, a company's promotional email, and the description of a product is what inspires trust to your global customers, that more often than not, complete their transactions from the other side of the world. Not being physically present in an actual store, online customers often opt out of completing purchases if they are not convinced with the necessity of the purchase, the price, and the integrity of the product provider.
Display reviews
Online shop owners know how difficult it is to compete with sites like Amazon and eBay. Those two marketplaces have built up a high level of trust with their customers. One of the biggest reasons, especially when it comes to Amazon, is that they have incorporated reviews on their product pages – Amazon displays information on both shop reviews (customer service evaluations) and product reviews (product evaluations), while eBay focuses more on just shop reviews (i.e., feedback score).
Reviews can bring plenty of benefits to your online shop, including SEO improvements, but the most apparent reason for posting them is the social proof that they provide. In a world where consumers are bombarded with ads thousands of times a day, it is no wonder they have become skeptics.
People trust online reviews almost as much as personal recommendations – they know that fellow consumers are on their side (more than any marketer or salesperson). Not only should you, as a shop owner, collect both shop and product reviews, but you should also display them directly on your website. Don't give potential customers any reason to hesitate on a purchase or leave your website to check on your reputation, because you will risk losing them to a competitor.
Offer customers more protection
Once again, earning a buyer's trust is not easy. With so many international brands out there, buyers often hesitate to buy from local ones. Offering unique, niche products that are not available on other websites is one way to earn a buyer's consideration. However, this might not be enough to convince people to buy from your shop, especially, if they have never heard of you before.
Certifications can often help buyers feel at ease. A well-recognized, third-party certificate can bring peace of mind to a user who is a bit hesitant to offer their credit card information to a stranger on the internet.
We see online certificates on websites all the time and for different reasons, but they generally share one purpose: building trust with consumers. Fairtrade and vegan logos offer users security in terms of dietary quality and ethical business practices. McAfee certificates give a level of security in terms of data privacy and malware. A certificate from Trusted Shops offers users an extended 30-day money-back guarantee for products bought from this shop.
E-Commerce sites need to present their wares and company mission in a manner that succeeds in convincing new and returning customers that they mean business, a business that can be trusted, and one that offers the most valuable proposition in the market.
In their quest for conquering the hearts and souls of their online audiences, companies have several tools and mechanics to make it happen. They have talented copywriters to write compelling content, ingenious UI/UX designers to help make the customer journey as seamless as possible, and visual artists that dazzle the eyes of the visitors with product presentations that inspire spontaneous purchases. And one more trick up their sleeve: Digital marketing communication companies to launch marketing campaigns that drive conversions, increase sales and slash cart abandonment rates.
Routee's intelligent digital marketing platform is an invaluable communication partner for your e-Commerce business. Offering a wide range of digital marketing services, like push notifications, SMS, and Email campaigns along with truly advanced segmentation of customer data and behavioral patterns can transform any e-Commerce business into a trusted and successful vendor across diverse markets in the world.
More strategies to slash your cart abandonment rate
Push notifications can help your business re-engage with your customers on their web browsers and mobile devices. Sending short reminder messages with a limited discount offer to subscribers is a proven way to motivate potential buyers.
With an omnichannel communication approach, you can reach your subscribers on the most effective channel that is determined based on intelligent data segmentation. Sending reminder messages on the right channel, per individual case, taking into account the timezone and browsing habits of your customers, can significantly increase your sales and slash your cart abandonment rate.
Personalized messages
Data segmentation is vital for a business. Having an updated customer list that your business can reach with highly personalized messages adds to the overall positive perception of your company. Knowing when and where to interact with your customers without disrupting their daily habits can build trust and appreciation that leads to sales, repeat business, and word of mouth.
Well-timed communications
Timing your cart abandonment reminders based on individual customer contact preferences is yet another effective way to capture the attention of your recipients. Reach your audience when they are more receptive to your messages. Avoid hectic days of the week and target your audiences only when they are online.
Channel optimization
An intelligent communication platform can determine the appropriate channel for your cart abandonment reminder messages. Reach your customers via web or mobile push notifications, depending on the availability of your audience on each platform. Deploy campaigns with alternative channels at the ready, like email, FB messenger/Viber, and SMS, when a sale needs to be completed and the message to be acted upon.
Rich visuals
A personalized message reminder can include rich visuals that rekindle the interest of your customers in the product they have added in their cart a day or so ago. With rich push notifications and messages from an intelligent marketing automation platform, you can make sure that your communications will not be ignored.
Click-to-action
The appropriate image along with a Click-to-action button can streamline the process of completing a sale. Starting from a single message that evokes the right kind of feelings for your customers along with a Click-to-Action button embedded in the body of the text, can achieve that immediate effect of bringing spontaneity to shopping, that works equally effectively both in e-Commerce and brick-and-mortar stores.
Cart abandonment is something that the vast majority of e-Commerce businesses strive to keep under close control the known rates in this specific segment of the online market refer to a percentage as high as 75%. Strategies to tackle the issue must include digital marketing automation to be effective. With such advanced mechanics and intelligent functions along with trusted user reviews, a marketing automation platform like Routee can help online businesses curb the cart abandonment rate by up to 30%.
Through the use of effective communication strategies and well-timed messages with the appropriate content, visuals and a Click-to-Action button is the way for your e-Commerce business to move ahead of the competition and increase its sales and customer satisfaction, earning valuable trust in your brand.
Visit Routee and try an intelligent automation platform today that can make a difference for your business as your digital marketing and communications partner.
Grow your business with Routee's Marketing Automation Service