Generate more business with the Telegram Messaging App
Increase your customer engagement and retention rates now. Routee can provide you with all the resources you might need to build a successful Telegram Business account.
15 billion
messages daily
Messaging apps usage continues to grow and has yet to peak. Text messages are a powerful tool for reaching your target audience in their preferred channel of communication and building strong, long-lasting customer relationships.
Telegram API for Business Service Highlights
Now users don't need to visit any external websites to make a purchase -  all payments are processed within the Telegram app. With Routee you can accept payments from your Telegram users across the world.
Create and launch engaging marketing campaigns. Send and receive rich-content messages that include text, images, buttons, emoticons, stickers, video and audio content or files of any type.
You can create groups of up to 200,000 people. Routee can deliver your messages accurately and securely, taking full advantage of Telegram Chat unique competitive features.
With Routee you can send personalized content to your customers as soon as it's published. Communicate important alerts, flash sales, transactions and other services in an instant.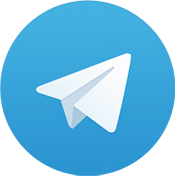 Receive reports on customer behavior to understand individual preferences. Routee provides a detailed analysis of your customer data to help you increase your company's ROI.
Save time on multiple mailouts. Send personalized messages to your segmented audiences and optimize your customers' communication.
Elevate your Customer Service experiences with automated messages. Deliver responses to your customer requests automatically, employing intelligent keyword recognition software.
Routee can set up intelligent failover solutions when your messages are not read by their recipients. Never miss an opportunity to connect with your audience again.
E-Commerce
Inform your customers about your new product launches and services, latest offers and discounts. Increase sales and reduce cart abandonment rate with In-App Purchases.
Airlines
Airlines can issue boarding passes, communicate flight times and gate changes via Telegram Business Chat to each passenger individually. Promote new destinations and offer a seamless customer service experience.
Real Estate
Make it easy for clients to find their ideal property on the market. Keep your prospective buyers informed about new deals and finds, and respond to their search queries promptly and accurately.
Medical Industry
Set up efficient booking procedures and appointment reminders. Create keyword triggers to responses and automatically deliver responses to queries and confirmation messages.
It's easy to get started!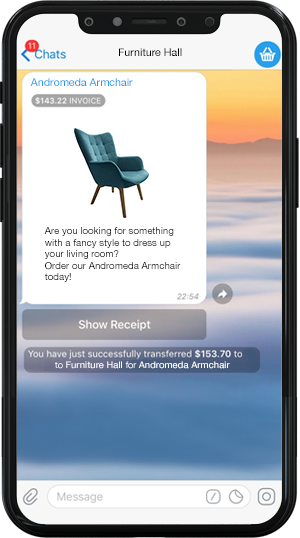 Increase your Revenue
With Routee In-App Purchase integration, transactions have never been easier! Reduce cart abandonment and increase your conversion rate.
Provide Greater Customer Satisfaction
Improve your response time with automated messages. Promptly assist your customers with their inquiries and increase your revenue substantially with pre-set responses to your most frequently asked questions.
Get Immediate Feedback
Let your customers reach you with Telegram's two-way messaging.  Conduct surveys for product and brand improvement.
Segment your Audience
Launch highly targeted campaigns based on your customer preferences or repeat business trends. Send exclusive offers to your loyal base and increase your retention rates.
Highly Engaged Customers
Keep your customers updated on your latest products and services. With Routee you can launch automated campaigns, based on new content such as blog posts and e-commerce catalogs.
Security as a Priority
Routee's Telegram Business Messaging service is provided via private cloud servers that are fully protected with the latest firewall technology. You can be confident that each message will be sent privately and securely to each recipient.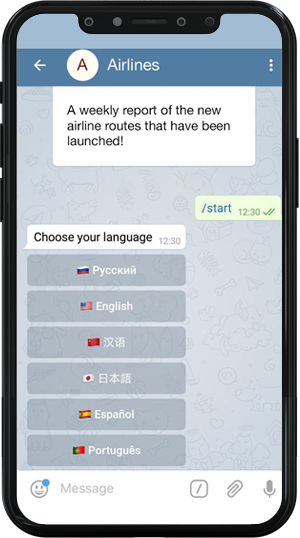 Quicker response,
faster resolution
Connection anywhere,
anytime
Powered by one of the world leaders in connected technology, Routee uses AMD Telecom to ensure your business has robust, reliable and scalable automated marketing services you can trust and count on day-after-day.