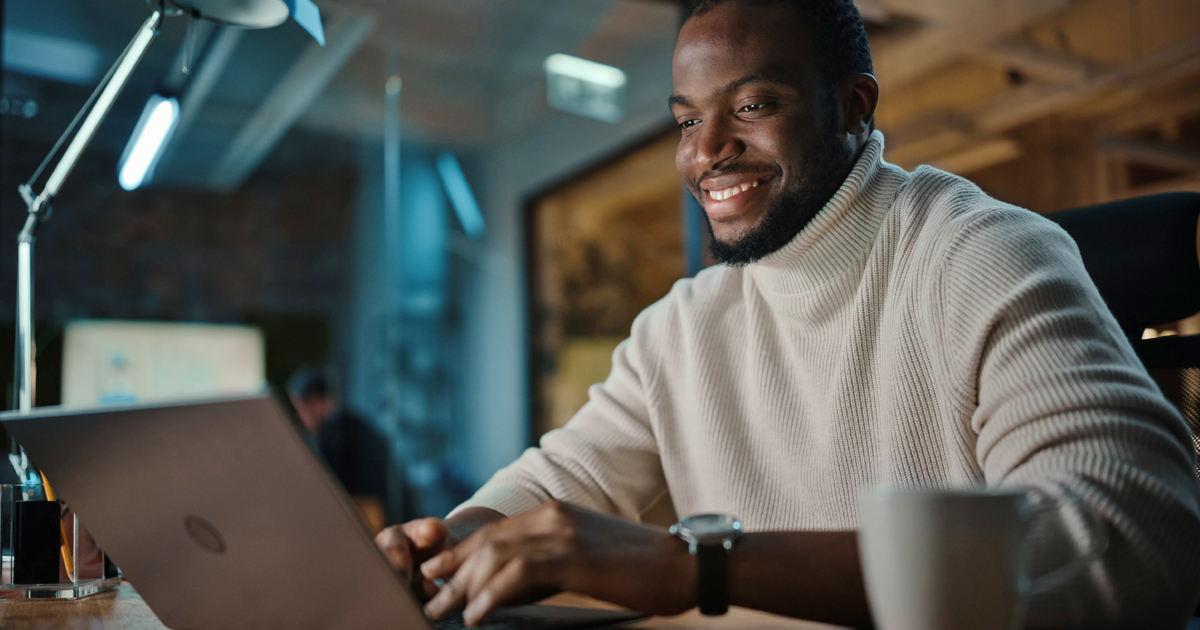 Customer feedback matters. How can you collect and use it?
Reading Time:
7
minutes
Data and analytics alone can only get you so far in determining customer satisfaction. Yet, they will not tell you the whole truth. This is where customer feedback comes in. Your customers are best qualified to tell you about their needs and expectations.
Why is customer feedback important?
For your business to thrive, you need happy customers that return and -even better- that refer other people to your business as well. You need to occasionally check back with them using surveys to evaluate their level of customer satisfaction.
Customers can transform your business for the better if you listen to their feedback. Customer feedback is considered one of the quickest and most efficient ways to make improvements to your business. Many professionals even have gone so far as to call it business gold.
Collecting customer feedback enables you to identify the reasons behind your customer behaviors. When you can match customer feedback to what you see in your analytics, you will have a solid picture and you will know how to fix problems and go after the right opportunities.
In the past, when a customer had a question or issue, they would either call a hotline or write a letter. Nowadays, most marketers and business owners are interested in getting quick, detailed feedback from their customers online. Businesses can gather customer feedback using two different ways, prompted feedback (e.g., surveys, ratings, questionnaires, etc.) and unprompted feedback (e.g., client reviews, word of mouth, social media posts, etc.).
We will focus on how you can use different ways to collect prompted customer feedback and how to eventually use this feedback to optimize your business performance.
How can you collect customer feedback for your business?
Sending customer surveys is a popular approach to collecting feedback. The best surveys are easy to complete, relevant to the customer experience, and ask direct and reasonable questions.
SMS surveys
SMS is one of the quickest and most cost-effective ways to reach out to your customers and collect their feedback about your products or services, customer service, and overall brand experience. While survey response rate is one of the biggest concerns for companies, surveys sent via text are more likely to attract participants. Considering that 98% of text messages are opened and there is an 80% response rate, we can assume that text messages are an effective way to collect customer feedback and understand your customers' concerns.
Request quick feedback on recent purchases or services, or after a customer service session. Be sure that your text message survey is short, just like your SMS, but include a brief explanation to improve the chances of a click-through. Also, it is important to maintain a strong sense of branding and of course to proofread your feedback request extensively, checking for any errors.
Using Routee, you can easily create engaging SMS surveys and find out how your customers feel about your product or service.
Email surveys
If your goal is to get broader feedback about the entire customer experience, then email is the way to go. Consumers prefer using email to communicate with their favorite brands, making it one of the most commonly used digital customer service channels, with 54% of customers using it in the past year.
Survey emails allow you to send your questions to specific groups of customers who are already invested in your business. The customers on your email list have opted in to interact with you regularly—there's no doubt they'll have valuable insights for your business. By asking the right survey questions, you can gain knowledge about your target audience.
A good way to send your survey is through transactional emails, that are triggered by a certain interaction between the user and your business, such as a purchase, signing up for a new service, or upgrading to a new plan. Contrary to this popular practice, transactional emails can be used as a powerful weapon to foster a dialogue with customers and get their feedback, as they are emails that customers expect to receive and will most likely open.
With forms, you can easily create and customize your survey form and gather feedback reaching out to your customers via email.
Survey on-site
An on-site survey (also known as an on-page survey) is used to ask questions and collect feedback when people visit a specific website page. It is one of the easiest and most direct ways to ask the right visitors for feedback at the right time, while they are interacting with your website. They are a great tool in helping you identify and remove friction from the purchasing process, while also increasing conversion rates.
You can target your questions to pop-up on specific pages or after specific actions. On-site surveys are simple and short and should avoid disrupting your visitor's journey. The questions can range from open-ended to close-ended questions, and they can also ask users to rate website experiences on a scale.
On-site surveys also enable visitors to feel engaged in shaping the future of your site, hence being acknowledged (bonus points!).
VoIP survey
Just like you can send out surveys and product feedback requests through SMS and emails, you can also use an IVR survey to collect customer feedback. Considered one of the most popular ways for collecting feedback, the IVR survey is a pre-recorded automated survey during which the customer responds to questions either by voice or by typing numerical responses using the telephone keypad.
The benefits of using IVR for gathering customer feedback are that there is no requirement for internet connectivity, as a simple telephone connection will do. Therefore, it allows your business to collect feedback from non-digital, non-tech savvy customers, guiding them through the process and providing them with clear, concise, and comprehensible answer options.
On top of that, it allows you to reach out to a larger audience, who are located in inaccessible geographical regions, ensuring that none of the customers are left out.
Make sure you select a cost-effective and feature-rich software solution, such as Routee's Cloud IVR that can easily integrate into your business and will ensure that you will provide a seamless customer communication experience.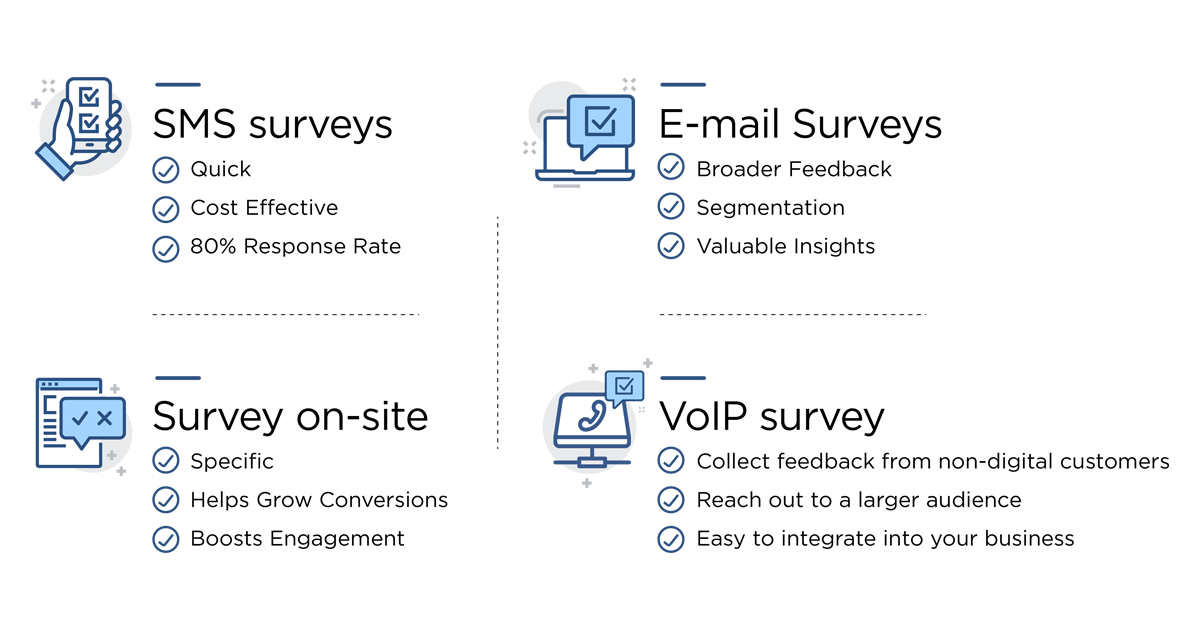 How can you use the customer feedback collected to benefit your business?
Now that you have collected valuable feedback from your customers, it is time to talk about putting these data to actual use.
Identify product improvement areas
It is crucial to use feedback to improve your product, your service, or even your customer service. Remember, that your customers have invested their time to give you feedback when they could have just switched to another product. Any feedback is a display of interest in your product. Be wise and use feedback to improve.
Contrary to what many believe, even negative feedback is an opportunity to prevent customer dissatisfaction and foster a long-term relationship with them.
Ensure that you check up on your customers regularly – make them feel appreciated.
Not only will they acknowledge your willingness to listen and implement their ideas, but you will set yourself apart from your competitors, as a business that genuinely cares.
Scale-up your business
As your business continues to grow, you will want to think about adding new products or services. It only makes sense to listen to what consumers expect from your business if you hope to gain their trust and turn them into lifelong customers.
Before every development plan, it is only proper to consider customer feedback. Their feedback can be used as a growth tool, since listening to your customers and creating a product or feature that is in demand can improve your retention rate and could boost your sales and conversion rates.
Build your testimonials
People are more likely to buy something if they see other people buying and using products from the same brand. That is why 58% of people look at online reviews at least weekly, while 93% agree that these reviews impact their purchasing decisions, according to research from Podium.
One of the best ways to show potential customers that other people are buying and using your products is by building testimonial pages with feedback provided by current customers.
This will enable you to portray your glowing reputation using the words of others but also serve as a reference to other customers. Besides, your customers can pick up a lot of handy tips from these testimonials, which can help them use your products better.
When building your testimonial page, make sure you add a layer of trust by adding both positive (and less positive) feedback, so you can help customers set realistic expectations and make informed purchases.
Improve customer service
Customer feedback can give you an excellent insight to improve the way you help future customers. You will be able to pinpoint common questions or concerns and serve your customers with speed and accuracy. According to Mckinsey, 75% of consumers expect a response to their question in five minutes or less.
Your customers' feedback will give you crucial information on the areas you can educate your employees regarding common issues customers mention when they submit their surveys, helping them create a fast, helpful answer when a customer comes to them for assistance.
Reward customers
If you have used their feedback to map your product development, why not let customers know about it? This will boost their customer loyalty and engagement with your business. You can even offer them discounts or loyalty points, or a sneak-peek into something you are preparing. This is a great way to create a loyal community of customers and users eager to provide you with sound customer data.
What is important here is to make them understand that their feedback matters and that you value and acknowledge their opinion.
Listen and improve with customer feedback surveys
Consumers expect an exceptional experience from your company. Collecting feedback from your customers regularly, enables you to know whether or not you are providing them with the experience they expect.
Collecting customer feedback is one of the primary drivers of long-term growth. Whether negative or positive, it is valuable and can play an important role to stay ahead of the competition and develop.
Equip your business with a set of power tools for conducting your surveys and choose Routee's SMS, Email, and IVR to fuel your long-term growth.
Grow your business with Routee's Marketing Automation Services