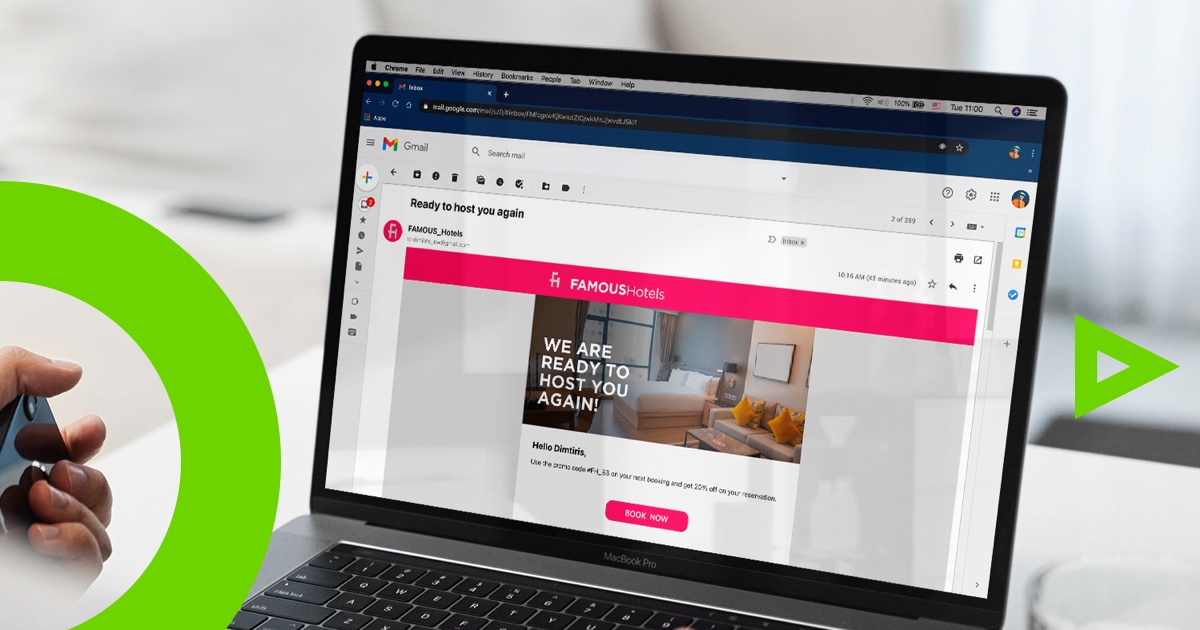 How to foster customer engagement in hospitality with email marketing during the Covid-19 crisis
Reading Time:
3
minutes
The coronavirus (COVID-19) pandemic has triggered an unprecedented crisis in the tourism economy, given the immediate and immense shock to the sector. Updated OECD figures on the Covid-19 influence point to a 60% decline in international tourism in 2020.
Even though consumers cannot travel at the moment and they put off their future travelling plans due to uncertainty, travel and hospitality organizations have an opportunity to keep their customers engaged and relationships strong.
An effective, mindful customer engagement strategy is critical in the strange times we find ourselves in, as consumers are being overwhelmed nonstop with updates and the 24-hour news cycle. Companies must focus on having valuable communication with customers and they should also be careful that their Covid-19 email strategy will not come across as insensitive and opportunistic. Of course, now it is not the time to go radio-silent, it is the time to stand next to your customers and send them content that they can engage in, giving them the chance to take a break from these challenging times.
Email marketing to the rescue of re-engaging inactive customers in the hospitality industry
Fortunately, there are ways that you can stay in touch with your customers, while your business is inactive. And that is by re-engaging them using email marketing. Here are some creative ideas of how your hospitality business can foster engagement and build your relationship with your customers who cannot yet travel and book with your business.
Bring the whole world in their inbox
Now is a great time for your business to communicate all the content you have about beautiful, extraordinary destinations around the world. Create mini-getaways for your clients to indulge in while they are in quarantine. Consider going beyond the predictable beachscapes, and clue them into unexpected destinations with fun trivia-worthy insights. Create emails inviting them to take a momentary break from the steady flow of heavy news alerts hitting their inboxes, and you will be sticking to best practices, given 73% percent of consumers prefer to receive communications from businesses over email.
Create positivity for the future by creating a contest
Offer your contacts the opportunity to win a trip that they can enjoy after they weather the Covid-19 storm. Ask them questions like "where will your dream vacation take you?" "Who are you bringing along?" "What's the theme of your trip?" Questions like these will give them hope, positive vibes, and excitement. Positive feelings that customers will relate with your brand!
Send your customers travel-related Covid-19 updates
Hospitality industry experts are in a position to reach out with important updates and notifications about traveling policies. Be there to inform and celebrate with accurate, of-the-moment details… And maybe even a promo code when the time is right.
Encourage support for those more needed
Travel companies are certainly attuned to all of the hospitality workers who have suddenly lost their incomes and are struggling. Give your travelers ideas on how they might help those who are in need right now. Ideally, you should lead by example and help in any way you can. For example, you can send emails noting ways people can help, mentioning how your company is contributing to the relief of those in need.
Take a trip down memory lane
You can motivate your clients to share their favorite travel destination, memory, or photo. That can make them feel gratitude for all the places they have been fortunate to visit, and the time they have enjoyed with loved ones. You can create even stronger engagement by sending an SMS and encouraging them to forward the text (and their memory) to their travel mates.
As soon as you build your content ideas to include in your communication strategy, continue with selecting to which clients you can send this information. Data you already have about open rate, clicks, and replies will be your guide. Segmenting by engagement is always a winning strategy. You should also reconsider your crisis communications and business continuity plans, to ensure your organization can serve customers after the crisis has passed.
What's coming next?
In times like this, companies need to show perspective and connection. Businesses that communicate using the right frequency and channels enjoy higher consumer goodwill, including 34 percent making a purchase. Authentic communication can be a bright spot in your customers' days that fosters customer loyalty.
Companies will be required to make smart decisions to secure confidence and business sustainability. Many will apply new technologies to facilitate immediate responses, and invest in longer-term strategies that will improve overall resilience and competitiveness.
Grow your business with Routee's Email Services