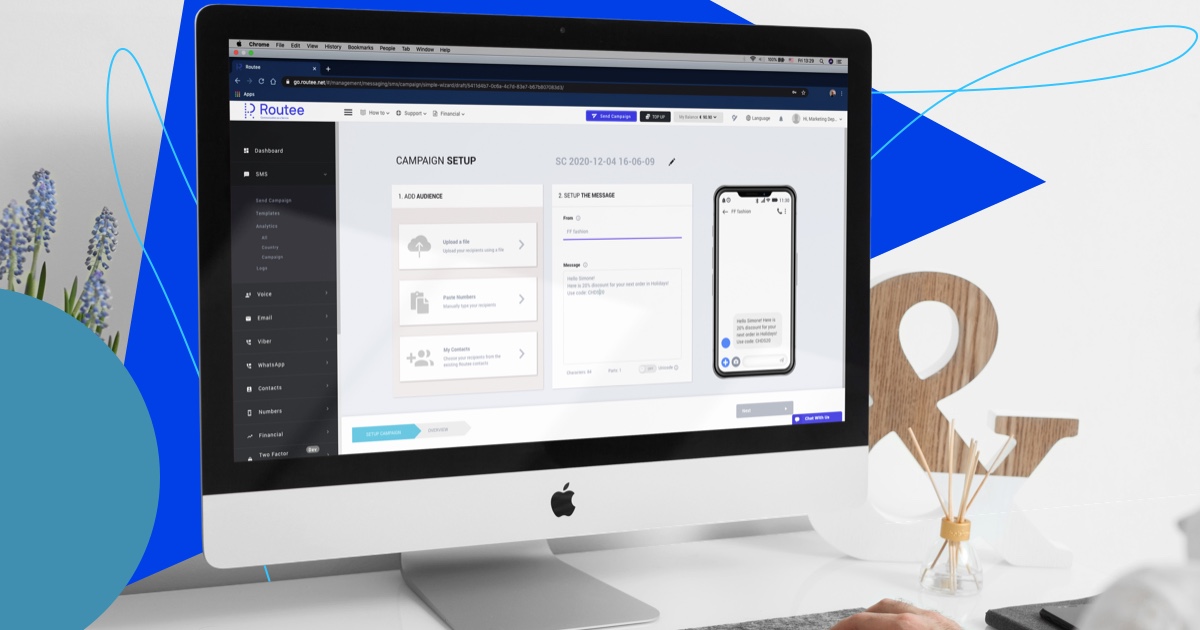 Trends that will shape Email, SMS and Push notifications in 2021
Reading Time:
5
minutes
So, this is it! 2020 is doing us the favor… It is going away!
And before we start the celebrations, while social distancing of course, how are we really looking at 2021?
Well, one thing is for certain, it is too early to predict.
In 2020, we've seen big changes and shifts in digital marketing and consumer behavior, amongst other things, and 2021 is likely to bring even more. As we navigate the ever-changing and unpredictable landscape brought about by COVID-19, businesses and marketers alike will have to make some adjustments in their strategies and investments to align with a post-pandemic world and boost their revenue. At the same time, some trends that surfaced by COVID-19 will continue to have an impact on the business and marketing world well into 2021, like the accelerated growth of SMS, email and push notifications.
As brands try to develop more direct relationships with customers, spending more on loyalty and retention, it seems that 2021 will be an interesting year for email, SMS and push notifications, providing several opportunities to businesses and marketers. In a recent report, Forrester Research predicts customers will receive more emails, texts and push notifications in 2021.
Bearing that in mind, it's time to share some important trends that will shape email, SMS and push notifications in 2021.
2021 list of marketing trends that can boost customer engagement and sales
Real, authentic personalization (or even better 'hyper-personalization')
Regardless of Covid and pandemics, personalization matters. In fact, 2021 is the year to sway customers with hyper-personalization. Customers now demand content that gives them information relevant to them. Information that feels like it was meant exclusively for them. According to SmarterHQ, 72% of customers say they now only engage with marketing messages that are personalized and tailored to their interests and roughly 20% of people unsubscribe from a newsletter if the content or promotions don't match their interests, as Lucid reports.
It is no longer about sending your promotions to your whole customer database. You are expected to forge a personal connection and to remember who the customer is, what they like, what they think, and what they want. To achieve that, segmentation is essential. You need to group your subscribers into segments based on the criteria you choose, which can range from location, purchase history, interests, behavior, and a lot more. Using these segments, you can create content that is specifically targeted to each segment instead of sending the same message to everyone.
Using intelligent communication tools like Routee's SMS and Email, you can start sending hyper-personalized content by using segmentation and subscribers' data: time, age, country, gender, purchase behavior, preferences, and so on, providing them with highly related and valuable offers and updates.
In automation we trust
Automation and personalization go hand in hand. With automation, marketers can effortlessly integrate personalization into their strategies. To increase conversions and boost retention, automation and personalization must be holistically integrated throughout the customer journey.
Sending triggered SMS, email and push notification messages based on a customer's behavior instead of blasting your entire customer list with the same message is effective for both acquisition and loyalty. As research from Jupiter Research suggests, relevant emails drive 18x more revenue than broadcast emails.
Here are just some ways of how you can leverage marketing automation in 2021:
Create welcome SMS/email series, to onboard your new subscribers, set expectations, and increase engagement

Set up a series of transactional emails, SMS and push notification messages, after customers have taken action on your site. You can use them to sell, upsell, and boost engagement, or just remind your customers that you are always around.

Send anniversary or birthday emails. Anniversary and birthday emails let your customers know that you are thinking about them. Add a special discount and you will boost your customer engagement and loyalty.

Send emails based on website activity. There are several email marketing automation tools that can integrate with your website to trigger email campaigns depending on the actions visitors take on your website.
For more ways in which you can leverage the benefits of marketing automation, WayMore's powerful marketing automation software will show you the way with a plethora of different workflows customized to your needs.
Omnichannel Marketing for smooth, integrated customer experiences
Gone are the days when marketers worked in silos, building different strategies for different channels, in order to acquire and convert customers.
In this new world order of COVID-19, customer experience plays a significant role in the overall digital marketing mix. Customers may not be visiting your physical store, but they are visiting several different sources before committing to a purchase and seamless user journeys must be combined, offering the same experience across all channels.
Omnichannel marketing helps brands engage with shoppers and potential customers across different marketing channels and platforms. Businesses who in the past approached SMS, email or push notifications as standalone direct marketing channels, will start using integrations to build cross-channel engagement, eliminating purchase barriers. Some examples of how integrations can be used in the year to come:
Text messaging customers about emails in their inbox, sharing blog posts or other company news

Unifying email marketing and push strategy. Engage with email, re engage with push

Combining social media marketing with SMS and Email
It is certain that with an omnichannel strategy you can do way more! So, if we got you thinking, then look no further, just take a look at how Waymore can help you in building your omnichannel strategy.
Content is the king (short and simple and sometimes fun content)
The trend for simple content has been around for sometime and it is very likely to grow stronger in 2021. Continuing with the personalization trend, it seems that text-only emails and to the point SMS messages feel more personal, like an email or a text to one of your friends.
A to-the-point email, SMS message or push notification, with the right words and a CTA button is much more helpful than a long and monotonous text with no useful information. To captivate your customers and to create value it is sometimes better to send a clear and straightforward message. No need to exaggerate or use long, unnecessarily complicated words. Make sure your content is concise and excludes any confusing words.
Don't get us wrong, we are not saying you should not use your awesome email designs and templates to create a 'wow' effect for customers, just try not to overdo it. You can, of course, mix your text-only emails in with your designed and beautifully templated emails for maximum effect, but when you are looking to get a little more personal or trying to connect with your subscribers on a deeper, more personal level, be simple and real.
Bring it on 2021!
Moving slowly into 2021, we believe and hope that we're going to see many of these trends shape marketing strategies. As these trends suggest, businesses will possibly become more empathetic this year, leading to stronger customer-business relationships. SMS and Email are the perfect tools for that. And with the help of push notifications they can elevate sales and revenue.
2020 has been a strange year, to say the least. Despite feeling anxious about what is to come, we are all ready to move on. From what the past year has shown, both businesses and marketers are up to the challenge. We hope the trends we have outlined here will help you cruise through 2021 with success.
Ps. Stay tuned for more trends coming up, shaping Email and SMS marketing strategies in 2021
Grow your business with Routee's Marketing Automation Services