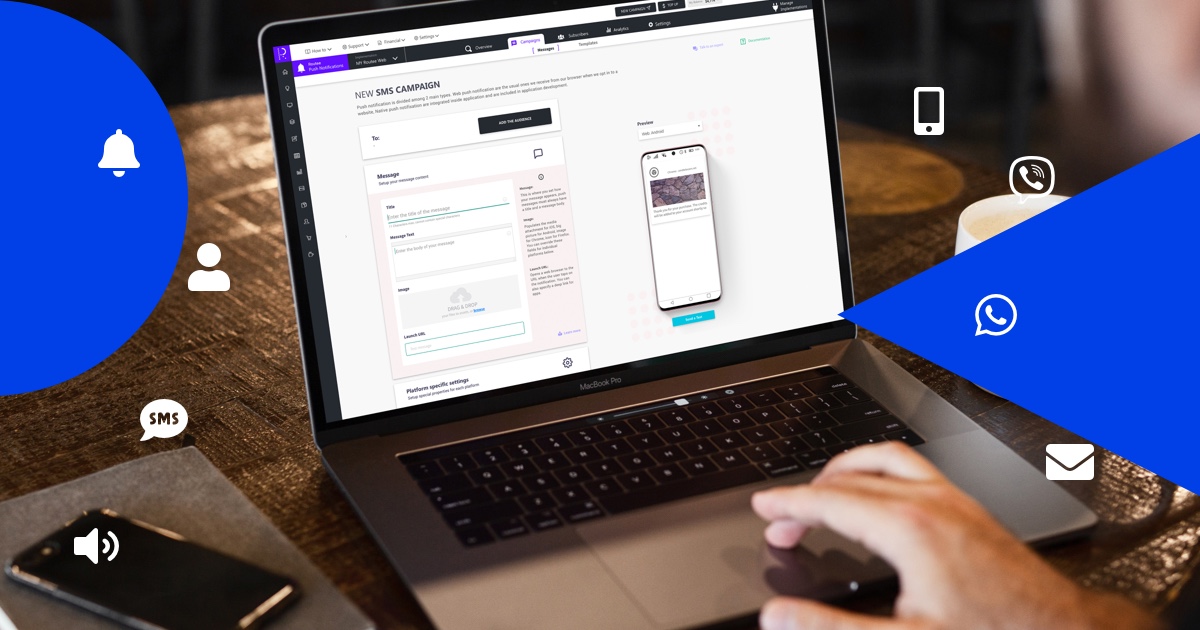 What is omnichannel marketing? Everything you need to know.
Reading Time:
6
minutes
In the early years of the digital revolution era, the term 'omnichannel marketing' referred to strategies developed by businesses with a physical location and a digital presence. Now that digital has grown to a full-length galaxy of diverse realms, the term 'omnichannel' has also adjusted accordingly. 
What is omnichannel marketing?
First things first. The Merriam-Webster dictionary defines 'Omni-' as all and universally, so in a first reading, omnichannel addresses all media that a business can use to communicate its message to its audience. 
In the current approach to commerce and business in general, omnichannel marketing focuses on designing a seamless user experience for customers at every touchpoint. It is not anymore about optimizing each communication channel on its own, but about taking into consideration each user's overall perception and experience of a brand. It is about connecting the dots and adjusting the communication channels -physical or online- that a brand uses to interact with its target audiences. The keywords of omnichannel marketing are consistency, harmony, and balance.
What is multichannel marketing?
And here comes the reasonable question, what is multichannel marketing? Is it a different type of strategy or just a term that can be used interchangeably with omnichannel? Omnichannel and multichannel may seem alike however, they are essentially two very different marketing strategies. 
Before moving on to discussing the differences and similarities between these two marketing strategies, let us clarify first the term 'multichannel marketing' to give you a better grasp, as we see several online sources using these terms correspondingly, many times creating confusion. 
Multichannel marketing strategy mingles different channels, like the physical location of a business, its online social presence, direct online (e.g., owned media, paid media, mobile native apps, newsletters, and so on) and offline communication media (printed magazines, billboards, and so on). In multichannel marketing, every communication channel acts independently of the other and carries its own strategy and goals, without taking into consideration any integration or cross-communication between channels. 
Omnichannel vs multichannel marketing
Although both omnichannel and multichannel marketing strategies rely on multiple channels that a business uses to communicate with its audience, they have radically diverse functions, concentrated in 3 key differences. 
Key differences between multichannel and omnichannel marketing
1. Main Focus (Customer vs Channel)
Simply put, omnichannel marketing has the customer at the center of focus, whereas multichannel marketing concentrates on spreading the brand's message to as many channels as possible.
Omnichannel marketing puts the customer's traits, preferences, needs, traits, and behavior first. Where do customers spend more time, what do they like, how do they respond and act? 
As soon as a brand clarifies the customer's 5 Ws (Who the customer is, What the customer wants, When is the best time to communicate, Where is the most suitable place to engage, and Why does the customer engage in this behavior), it is time to lay down the strategic plan. To provide a seamless user experience by interconnecting the customer's preferred channels of communication. To set the ground for enabling customers to effortlessly interact and access the brand and the relevant information. For example, when customers visit the Business Facebook page of a brand they expect to see a similar style to the brand's website, Viber Business page, or email newsletter. 
2. Consistency (Integration vs Segregation)
As omnichannel marketing focuses on delivering an optimized customer experience putting the customer first, this leads us to the next key factor that differentiates omnichannel from multichannel marketing: consistency.
Customers expect to receive a similar customer service style when contacting the brand from any of the brand's touchpoints. An omnichannel marketing strategy ensures that customers receive the same personalized experience and message regardless of the channel they select to interact with a business. 
Providing a consistent brand image and experience through each channel enables customers to relate better and feel more familiar with a brand, improving the relationship with the brand. 
Multichannel marketing, on the other hand, focuses on running each channel separately, most times resulting in an impersonal overall customer experience and in higher bounce rates as customers may feel frustrated and abandon the brand.
3. Personalization (Adaptable vs Inelastic)
Having established that omnichannel marketing places the customer in the center of attention, actualizing a uniform customer experience, we can certainly state that the last -yet not least- key factor that differentiates omnichannel from multichannel marketing is personalization. 
The brand's messages customers see are similar in every touchpoint yet adaptable to the customers' behavior, preferences, or other measurable traits. For example, regardless of the channel customers select to purchase a product/service from a business, the message they receive when completing that purchase adapts to the customers' behavior. This level of personalization is achieved through the process of sorting, classifying, and grouping customers based on specific behaviors they display. 
Omnichannel marketing embodies the "know thy customer" principle, recognizing and identifying trends to deliver the desired customer experience, whereas this level of personalization is not possible through multichannel marketing. Multichannel marketing focuses on simply spreading a firm message across all channels.
Tips for a successful omnichannel strategy for any business
Businesses have undergone dramatic changes over the past few months due to the COVID-19 coronavirus crisis. People worldwide have been forced to change their behaviors in terms of how they interact with a brand, make a purchase, require customer support, receive feedback and evaluate a company. What has significantly augmented is people's demand for a seamless experience from start to finish with the businesses they interact with.
This is the era of hyper-personalization where consumers don't just gulp content through any device and multiple touchpoints but practically require a seamless experience from whatever channel they decide to get in touch with a brand. They expect to receive consistent feedback whether they contact a business through phone, email, messenger, laptop, mobile phone, and so on. Consumers have become extremely strict judges when they do not get what they expect. Omnichannel marketing that stands for consistency, seamless customer experience, and personalization is the solution.
Here is a list with a selection of the best omnichannel strategies for your business.
1. Employ AI
The latest Email Marketing Industry Census, published by Econsultancy, states that businesses should focus on developing a collective marketing strategy of automated campaigns, personalization, segmentation and AI. Artificial Intelligence and machine learning may boost the effectiveness of campaigns and deepen customer engagement, whereas personalization is the next big thing in marketing innovation. 
2. Build on loyalty
Now is the time for businesses to develop an integrated customer loyalty program or to incorporate their existing one into their customers' online experience of their brand. For example, as eCommerce has radically changed to a greatly competitive market in the first couple of months in 2020, Darwin's theory about the survival of the fittest is now more relevant than ever. Loyal customers produce higher conversion rates and retaining existing customers is more cost-efficient than acquiring new ones. 
3. Optimize your company's stakeholders
It goes without saying that every company must develop its own unique omnichannel experience infrastructure. The best way to do this is to form a collaborating chain between the company's stakeholder departments (Product, Marketing, Sales, Customer Support), ensure everyone is aligned with the brand's message and apply a uniform customer experience across all departments.
4. Embrace the voice revolution
Harvard Business Review states that the eCommerce landscape is almost unrecognizable from even a decade ago, as competition has immensely grown, suggesting that businesses must reinvent the direct-to-consumer model and differentiate through their community growth. Companies must start a meaningful conversation with their customers to record their new behavior and preferences and prepare for the voice revolution by discovering ways to incorporate voice interfaces in their customer communication.  
5. Revise your brand messaging
An all-time-classic strategy that never grows old and always proves efficient. A very insightful article by Retail Dive supports the idea that businesses need to invest in ensuring they provide uniform and consistent information across all their communication channels -physical and digital- where they interact with their customers, regardless of the customers' geographical location and time zone. 2020, the year that has brought unexpectedly major changes in the way businesses work, is the ideal time to optimize a brand's message across all channels of communication, by aligning the brand's messages, goals, objectives, and design across each channel and device. 
So what's next for your business?
Keep in mind that when it comes to selecting and applying an omnichannel strategy there is no universal truth. There are so many variables in a business context that to get optimum results you need to constantly experiment and see what suits your business best. 
Make sure your business toolbox is powerfully equipped with the right marketing automation and communication tools and get onto it!
Are you interested in learning more, check out this related article about omnichannel marketing?
Grow your business with Routee's services