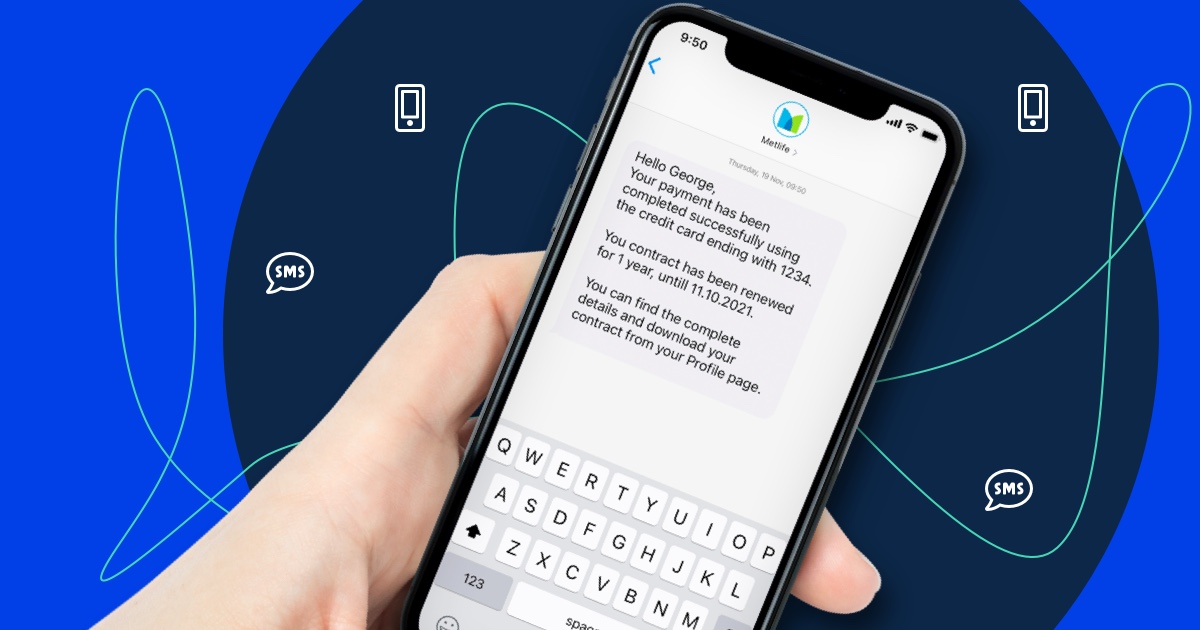 Types of SMS to kickstart your 2021 marketing strategy
Reading Time:
3
minutes
SMS marketing has been around ever since the early 90s and grows more popular as time goes by. In fact, SMS marketing popularity has grown by nearly 200% between 2015 and 2017 and maintains an upward course. Currently, with the advancements in marketing software, omnichannel campaigns have become a gold standard in eCommerce marketing, with SMS playing an integral role as one of the most popular and effective communication channels.
The value of SMS marketing lies both in its format and proximity to consumers. Not only are mobile phones always at arms-length, but text messages are also short and easy to consume.
Add to that the fact that the target audiences of eCommerce businesses are mostly digital natives—Gen Z-ers and millennials who grew up with mobile phones. That makes SMS the perfect complement to email, which has long been the established medium for digital marketing.
SMS is such a trusted and widely used feature of the mobile device (smartphone or otherwise), it boasts an incredible open rate of 98%, the large majority of which are opened within three minutes of being received! Beyond the open-rates, and unlike other marketing platforms, SMS requires basically no extensive ad copy, design issues will never delay its implementation, it's easy to track and measure, it is cheap, and is trusted by most mobile users. It has the ability to carve a direct pathway to your target market's pockets.
Nevertheless, just like any other marketing channel, in order for SMS marketing to be successful, it needs a properly laid out strategy. SMS has the potential but you have to use the right strategies to make it work. Get some inspiration from our recent article on trends that will shape the marketing industry in 2021.
Add to your SMS strategy a touch of creativity in terms of content writing to make your message stand out and trigger your audience to proceed with the desired conversion. 
Empower your marketing strategy with these SMS types
We have put together a list of the must-have SMS types that you can use in your marketing strategy to help your message stand out from the crowd. 
1. Customers prefer to get their

order confirmation

and

shipping updates

via SMS instead of worrying about opening an email. Also, you can place a link in the SMS so they can check out more details about the tracking. 

2. Another type of SMS that seems to be very popular to the audience is

welcome offers

. A well-timed SMS is a great way to welcome your new customers and will take them by surprise. Most of them might expect a welcome email but not an immediate Welcome SMS. For example, if you want to motivate them to sign up you should send the discount code or link via SMS and then follow that SMS up with an email. 

3. Another great idea for you to use is to send birthday

discounts

to each customer via SMS. Everyone wants to feel special on their birthday and it is a great way to show to your audience you care about them. So, what you can do is to create a special offer that lasts for a few days around their birthday and send it straight to their mobile phone.

4. A lot of businesses are dealing with the problem of cart abandonment on their e-shops. Almost 7 of every 10 carts get abandoned for any number of reasons. Using a shopping

cart recovery

email to win back customers is a common response. Join efforts by sending an SMS reminder for the customer's shopping cart and enhance your cart recovery efforts. Send an SMS campaign to capture your customer's attention, and add the photos of the abandoned products in the email follow up to remind them of what they're missing. This combination can be super effective.

5. When you run

special time offers

you

want to make sure your customers have every opportunity to participate. SMS is the best way to reach your clients and also to create a sense of urgency that will make them act faster. For better results, you can try a few different options to see what works best with your customers.
There is no such thing as a magic recipe for successful SMS marketing. The A/B testing method is the ideal way to check out what works best with your audience. Make sure you plan ahead and apply A/B testing with your SMS. Use an intelligent SMS Service like Routee's to capitalize on the user-friendly interface and powerful functionality to effortlessly craft and test your SMS messages and go with the ones that make the biggest impact for your eCommerce business.
Grow your business with Routee's services