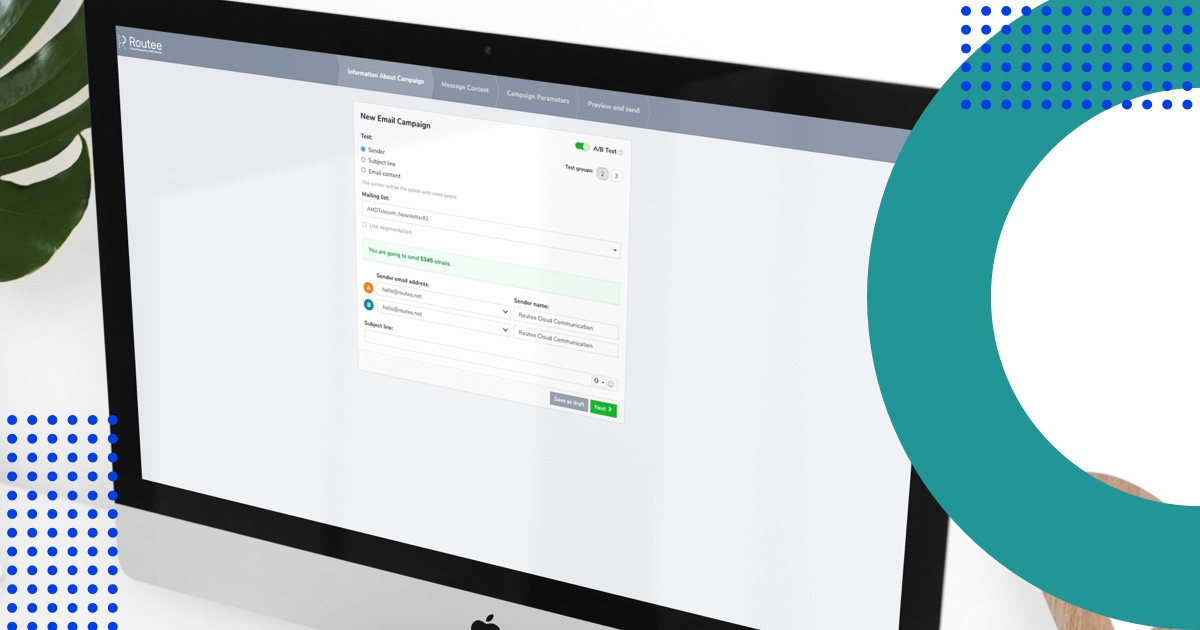 Get better results from your email marketing with A/B testing
Reading Time:
4
minutes
306.4 billion emails were sent and received each day in 2020 and the figure is estimated to increase to over 361.6 billion in 2024. Contrary to the people who advocate the slow death of email marketing, numbers do not lie. Email marketing is far from dead or dying -not only it's alive- but it is up and kicking, progressively growing despite the prominence of messaging apps.
Yet with growth comes struggle, as consumers are bombarded with tons of emails each day. Which email will they open? Will they notice your email or your competitor's email first? How can you make sure your email will stand out from the crowd? It is not enough to base your email strategy on a hitch you may have of which email will work best for your audience. As we said, numbers do not lie, so rely on them. The best way to ensure the type of email your audience will want to open, let alone read through it entirely, is A/B testing.
What is A/B testing in marketing?
A/B testing is a method that lets you scientifically test the effectiveness of your email marketing. The process of A/B testing requires creating two versions of an email, also known as email variants, to determine which email statistically performs better. These variants are then sent to a limited, yet a random number of subscribers, to monitor which email variant performs best. Once you have determined which email version performed better (in terms of conversion, open rate, bounce rate, etc.), you can optimize your email strategy by updating it based on what you learned about the winning email.
An email marketing automation tool will make the implementation of the A/B testing process much more efficient and effective. Using an email marketing automation tool allows you to easily create and select the message versions you would like to test, to choose the percentage of the random subscribers that you would like to use for testing, to schedule the test run, run the test, monitor the results, and ultimately presents you with the most effective email variant.
If, on the other hand, you decide to manually design and perform an email A/B testing, you must manually follow and put in action all the above-mentioned steps, spending valuable time from your human resources.
How does automation of the A/B testing process optimize your email marketing performance?
In essence, the A/B testing process allows you to identify what emails engage your subscribers best, a fact that ultimately helps you increase conversions and revenue. Automation is in fact the solution that not only saves up valuable time but also minimizes the possibility of error and misguided decisions.
Deciding to manually perform A/B testing means that you have to decide and put in action a series of processes one by one and test just one variable at a time to accurately attribute the email's success. Automation comes to the rescue, as you do not have to focus on one variable per test, but use a combination of variables, simultaneously test multiple ones, and get instant and accurate statistics and results.
What variables should you focus on during the email A/B testing?
It all comes down to the goal you want to achieve and bearing in mind the target audience at the forefront. For example, If you are testing to improve your email open rates, you will need to focus on variables that users view before they would normally open an email, such as:
The sender

The subject line

The preview text

The day of the week the email is sent

The time of day the email is sent

The week of the month the email is sent

Whether or not there is an attachment

Whether or not there is a visual or multiple visuals
In case you are aiming to establish trust with your audience and ignite interest, then you should consider improving your email click-through rates, and take into consideration testing the following variables:
The email format (branded vs unbranded)

The email's buttons colors (e.g., which color button will draw the most clicks?)

The readers' preferences in terms of clicking on a button vs. on a text link vs. on an actual URL

Visuals: will adding imagery to your email make it more compelling or more distracting for your audience?

What types of texts should you make clickable? (e.g., should you link the name of a blog post or use instead action-oriented text like "read more?")
What's next for your business?
A/B testing isn't complicated, the key to making the most of your email A/B tests is to set your strategy, start testing, evaluate the results, and adjust as you go.
You could start with a simple question, such as, "Why does my email not convert?" You might have a good open rate, but no click-throughs on the email's call-to-action button, so in this case, making changes can help you collect more data about your visitors' experience in the email.
Follow the right procedure to get accurate results. Remember the steps of each part of the email's A/B testing process:
1.  Set your goals
2. Decide on what you want to test
3. Choose the best A/B testing tools to easily automate steps 4 to 10
4. Set the elements of the A/B test
5. Create the variants
6. Design your test
7. Run the test
8. Accumulate data
9. Analyze the A/B testing statistics
10. Optimize your email campaign
A Routee expert is always available to guide you through our advanced email marketing platform and help you capitalize on the email A/B testing process to improve your email conversions.
To design unique email marketing campaigns and engage your customers, you need to add value to your messages. Check our latest article ''Personalization in customer experience is key!'' and discover the secrets for a segmented marketing strategy.
Grow your business with Routee's Email Services