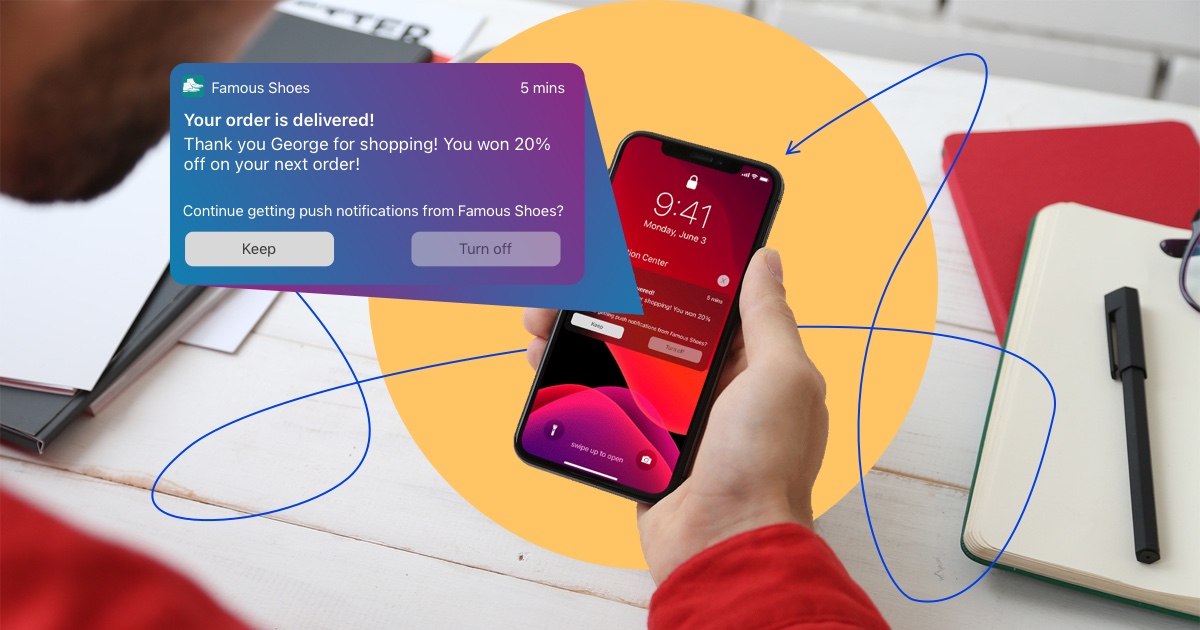 Trends 2021: Push your way forward with push notifications
Reading Time:
5
minutes
Push notifications have been around for more than 10 years (first introduced for iOS in 2009), and they have often been seen as a disruptive and an invasive annoyance.
However, as the years went by, they have become more intelligent and efficient.
The statιstics speak for themselves:
90% opening rate. 50% higher than that of email marketing

7 times higher click rate than that of email marketing

70% of users find them useful
As users' attention is finite, with many battling to cut through the Covid-19 information clutter, push notifications are becoming an integral part of marketing tactics. They not only provide direct access to your customers when not interacting with your app or website, but they are also a helpful tool for delivering value and engaging with them, improving brand loyalty, and driving sales.
Push notifications have been a somewhat underutilized marketing channel. With more and more businesses adopting them, 2021 is looking hopeful. The question is, how should you leverage them in order to communicate with your customers effectively? We hope these trends will help you out.
Personalize before you push
We have said it before and we will say it again, personalization is more important than ever in digital marketing. Customers expect your messaging to be relevant to them and they are willing to sacrifice their data to get it! This is particularly important for push notifications since as we stated in the beginning, they are often seen as being more intrusive than other channels.
As statιstics show, incorporating segmentation and personalization in your push messaging increases conversions:
7% open rate for segmented push messaging compared to a 3% open rate for generic, broadcast messages (a 2x improvement)

54% of users convert from a segmented notification, compared to only 15% for broadcast messages (a 3x improvement)
If you are thinking of sending a generic broadcast message to users, think again. Then go ahead and segment your subscribers so that you can send a personalized message to them, offering a unique individualized experience. After all, this is your chance to show your customers you truly know them and care.
There are plenty of ways you can personalize your notifications. Here are just some:
a. By demographic information (age, gender, marital status)

b. By Technology (phone, tablet, iOS)

c. By Customer's Life cycle stage (new, returning, re-engaged)

d. By Localization (city, timezone, climate)

e. By behavioral information (time in-app, last session, last push, last purchase, items in cart)
Boost your audience's engagement capitalizing on segmentation with Routee's push services for web and mobile.
Stay relevant, provide value
The ultimate goal of your push notifications is to increase sales. That can only be achieved if you offer your customers relevant content they can benefit from. It is easy to send a notification to a specific segment of your loyal customers, so be sure to target your messages correctly instead of sending everything to everyone.
According to Business of Apps, a campaign that is hyper-relevant is said to boost open rates by 9%, with 49% of users stating that they use an app more if their stated preferences are being taken into account.
Customers who subscribe to your push notifications have trust in your brand. Whenever you deliver push messages to them, make sure you offer them value. Offering value to your users begins by understanding what's relevant to their unique needs. If these your push notifications don't offer any value to your users, it is better not to send messages to them. Simple as that.
Timing is everything
Sending push notifications at random times is probably not a great idea. A Forrester study which suggests that 49% of users opt-in to receive notifications because they want timely information, is a case in point. At the same time, a study from MarketingDive shows that campaigns where all users got sent notifications simultaneously, recorded a 1.9% open rate.
It is therefore crucial to identify the best time to push your notifications to your customers. For example, if your audience is global, there is no point in sending them your messages at the same time, as they might be in different time zones and hence miss out on them.
Effective timing however is not limited to timezones. Effective timing can also be structured around behavioral cues. For example, if your customers perform specific website or app actions, you can use these behaviors in order to target them with timely and relevant notifications. However you choose to structure the timing of your notifications, it is essential to perform continuous testing to find out the time when your users are active.
Our push notification tools, which offer A/B testing can help you find out which template responds better, improving the efficiency of your communication.
Copy is key
Many times businesses overlook the importance of engaging copy. Push notifications provide only a limited space for writing, enough for maybe a sentence or two. Their success heavily depends on the messaging and the language used.
Therefore, you have to make every word count and to make it clickable. Focus on providing a unique value that is relevant to your audience. Create effective short messages with a strong sense of urgency. We are talking about real-time consumption. Your notification must create urgency for users to take action. Be direct with what you want them to do. With little time on their hands, your customers appreciate you more when you are being direct.
Don't forget to put a playful, yet rich twist to your notifications
We have talked you through the basic trends shaping your push strategy in 2021. It is now time to get down to the more 'playful'!
They say a picture paints a thousand words, after all. And the same is true for your push notifications. Enriching them with some form of media that is more than simple text, such as video, image, or interactive features shows that it can improve open rates by up to 56%.
Research has even shown that notifications with emojis enjoy a 254% increase in open rates compared to ones without. Additionally, by introducing media-rich elements into your notifications you can work your way through the restrictive nature of their character length, catching the eye of more visual customers.
With all that in mind, it's safe to say that rich media content can help contribute to an app's overall retention rates. So, get creative with your messages using engaging images, links, call-to-action, and rating buttons with Routee's tools.
Push without being intrusive
When done right, push notifications can be a game-changer for your marketing strategy, engaging your audience non-intrusively and ultimately increasing your sales. To make the most out of them, keep these trends in mind and start experimenting with different campaigns to see what works the best for you.
Wait no more, let Routee' experts guide you through!
Grow your business with Routee's push notification services