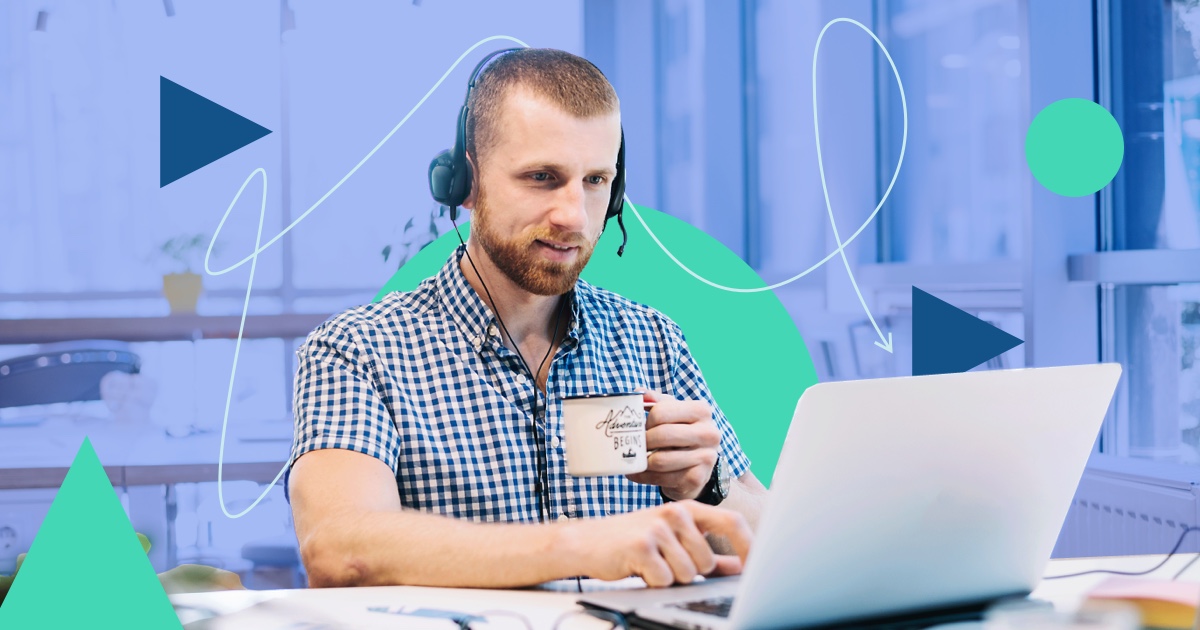 Trends 2021: VoIP is the future of voice communication.
Reading Time:
5
minutes
Born back in the '90s, the VoIP market has certainly reached new heights in 2020, as Covid-19 triggered the largest work-from-home experiment in history. It is predicted to grow even more in the coming years.
According to reports, the global VoIP market is expected to reach $102480 million by the end of 2026.
VoIP technology has become a business necessity in recent years, changing the way businesses communicate forever, both internally and externally. This comes as no surprise with the emergence of mobile VoIP and the expansion of internet access across the globe.
In 2021, as more people and businesses will adopt and increasingly rely on VoIP, it is essential that we explore the trends which will be shaping the market to ensure that they are leveraging its full use.
It is the end of…traditional telephone services and systems
In the last decades, we have witnessed the slow death of traditional landlines and other telephone systems. Αt first it was the rise in usage of hand-held devices, now it is the increasing use of VoIP. According to estimations, close to half of the landlines in the world are gone, and those remaining are rarely used.
As the internet remains easily accessible and as the advancements in smartphone technology continue, there are all sorts of ways to communicate nowadays. Therefore, businesses are trying to keep up by accommodating their customers through a number of different channels. This has resulted in the rise of more sophisticated VoIP platforms. In the coming years, more businesses will be investing in these systems, integrating VoIP services with chat, SMS, email, video calls, and social media for an omnichannel approach.  
If you have decided to make the shift from landline to a VoIP phone service, we will guide you through, helping you create strong bonds with your customers.  
5G will be big
The wait is over, 5G is here. The fifth-generation wireless network technology is expected to radically change internet connectivity. 
This is of course major news for the VoIP industry, as users will see improved call quality, faster communication speeds when calls are being made and received, reduced dropped calls, and elimination of call jitters. Besides, 5G will allow internet users to have better connections, extremely fast browsing speeds and increased capacities, which is especially important as VoIP starts to integrate video and other forms of communication, as we will discuss later on.
The benefits offered by 5G are likely to make even more businesses interested in adopting VoIP,  while those already implementing VoIP are likely to expand its usage. This is therefore the perfect time for you to find your VoIP communication tool.
AI is all around us
Artificial Intelligence (AI) is everywhere you look. From Netflix serving you the most suitable shows for you, to your social media feed making sure you are getting relevant updates, more and more businesses are looking to leverage AI for customer service and personalization purposes, with some making huge investments. 
The improvement and adoption of AI is predicted to reach and touch every industry. The VoIP industry is no different. In 2021 and the following years, AI will become an integral part of VoIP communication tools.
Some of the AI innovations which will help shape VoIP communication include:
Smart assistants to help with scheduling, reminders, and tasks

Self-help solutions and options in call centers

Intelligent, automated call routing options (Including routing options based on mood analysis, voice recognition, and agent skill level)

AI chatbots and intelligent IVRs
With all that being said, it is definitely looking like you should start incorporating AI technology in your VoIP systems in the coming years. 
Unified Communications (UC) Systems Rising

The need for an omnichannel, seamless customer experience is a recurring trend, which we talked about in our previous posts regarding general and SMS trends. UCaaS solutions (Unified Communications as a Service) provide businesses a way to manage and organize their messaging strategy so that they can offer an omnichannel service experience to customers.
With more and more businesses investing in systems that can support chat, SMS, email, video calls, phone calls, and social media, unified communications platforms are quickly growing. UCaaS offers cloud-based communications that allow users to access it or log in from anywhere as long as they have an internet connection. 
According to The State of Unified Communications in 2020,  42% of companies have increased cloud application and unified communication adoption. Furthermore, "…67% of organizations are moving significant portions of their unified communications solutions to the cloud."
Through UCaaS, businesses can focus on critical business functions and employees can stay connected no matter what the circumstance requires. In addition, they provide reporting and visibility into communications so that businesses can always look for ways to communicate better and increase efficiency.
So, if you are looking to provide a seamless customer communication experience with Cloud IVR, Routee is here to give you all the help you need.
Mobile VoIP is a must

With the Covid-19 pandemic, many businesses had to figure out a way to work remotely while maintaining employee engagement and productivity. While many businesses had already put initiatives in place, the pandemic increased the importance of mobile business access, functionality, and success exponentially in 2020.
From a business perspective, mobility has opened up new opportunities for optimizing efficiency and productivity. In 2021 and beyond, business mobility is going to be a must-have for every business that wants to stay competitive and agile in the changing business landscape. It will allow teams to get in touch with each other more conveniently.
But it is not just a case for businesses. As our mobile devices are now mini-computers that can do a lot more, people are no longer using their mobile phones as just mobile phones.
Businesses view mobility as a factor in succeeding in their respective industries. In fact, the 2019 T-Mobile Mobility Trends Report had shown that 7 in 10 enterprises had mobility as a priority in helping them gain competitive advantage, while it also revealed that global spending on mobility solutions is predicted to hit an impressive $1.8 trillion in 2022.
Businesses are investing in mobility solutions, including VoIP systems for mobile devices, to cater to mobile users. With the rise of 5G networks, the functionality of these systems is expected to increase. So, be on the lookout.
In 2021, take advantage of VoIP services to advance your business
VoIP can bring tangible benefits to your business. Not only can it prove a cost-effective alternative to traditional phone and communication systems, but it can also be used to optimize the way you handle business calls and transactions.
It is believed that VoIP is the future of business communication, but, like all modern technology, it is still evolving. We hope that with this list of VoIP trends for 2021, you will be able to get a better idea of how you can leverage VoIP adoption, in order to gain a strategic business advantage.
However, like any other technology, the success of your VoIP strategy considerably depends on the quality of services used. If you need help finding the solution that best suits you, check out Routee's VoIP solutions.
Grow your business with Routee's Voice Services