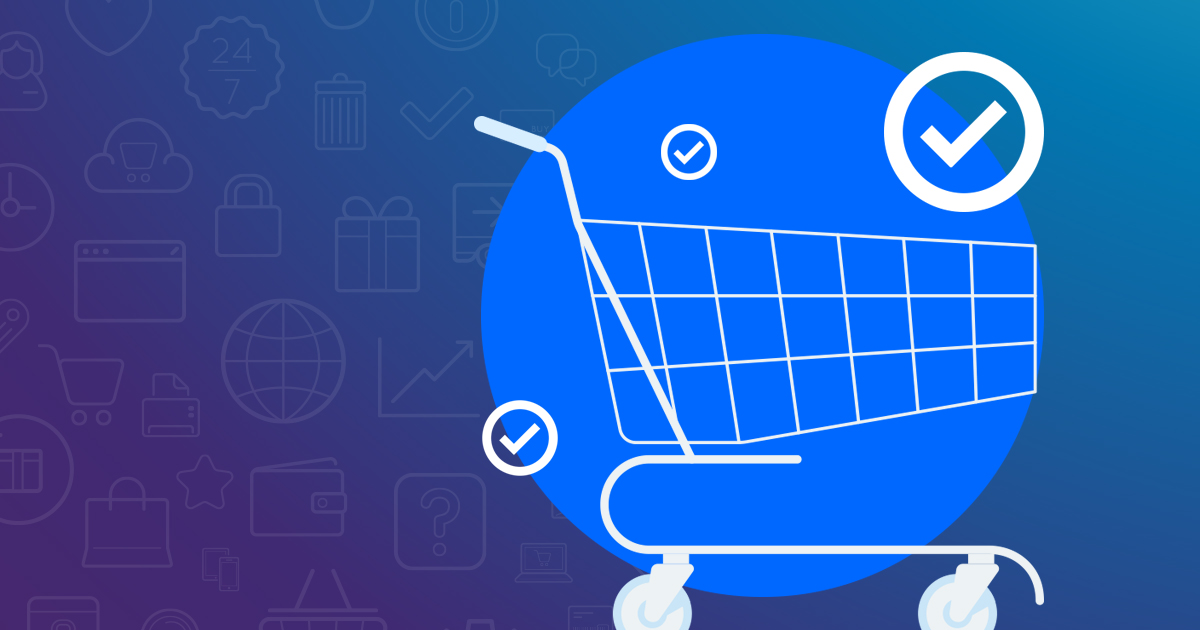 7 Ways to boost shopping cart recovery
Reading Time:
4
minutes
Shopping cart abandonment is a major issue to battle for any online store. On average, 69.57% of all shopping carts are abandoned, meaning that over two out of three people who add items to their shopping cart will leave without finishing the purchase. That is a lot of missed opportunities and lost revenue.
The shopping cart abandonment rate is a critical metric for online stores to keep track of, as a high abandonment rate could also indicate a bad user experience or a weak sales funnel. Decreasing shopping cart abandonment drives more sales and profits, so optimizing the checkout process is very important for many online retailers.
How can you reduce shopping cart abandonment and why customers abandon their carts?
There are a lot of reasons why online buyers abandon their carts. A good place to start looking is at your eshop's analytics to identify dropoff points. You can also conduct user research and surveys, or compare your checkout flow to competing sites. Once you start identifying the problems, then different solutions can be tested on the site through A/B testing to conclude whether a recommended solution will help improve the shopping cart abandonment rate.
The most popular reasons that online buyers abandon their carts are the following:
they do not see trust badges on an eshop

they are forced to create an account to complete their purchase

they see unexpected costs (shipping, taxes, fees)
We have put together a set of pro tips that any eCommerce business can put in action and boost its shopping cart recovery strategy.
Pro tips for reducing shopping cart abandonment
1. Send an Abandoned Cart Email
When it comes to a cart abandonment message, you use both SMS and email. There is no need to choose one over the opposite. On the contrary, you'll use email and SMS in priority order. For instance, you can send out an email two hours after someone abandoned their cart, and if they didn't open the email, you should follow with a text message to be dispatched after 24 hours. This way, you retain customers engaged and present them with the specified information just in case they continue with the procedure, no matter their location.
2. Be clear about pricing and costs
If you want to avoid cart abandonment you should start by showing the total cost with all fees like tax and shipping included, the earliest during the customer journey. That usually makes consumers not abandon their carts and go through the process. It is not always possible to show the all-in costs before someone logs in or provides the shipping address. Despite this, there are ways to keep the cost and cart contents at the forefront. Whether it is setting the details in a sidebar, at the top of the screen, or in another noticeable place, you can make it all easier for the customer.
3. Make the check-out process short and easy
If you have a complicated check-out process, it is more likely that consumers are not going to complete it. Three to five steps should be enough for the check-out process. The shorter, the better. Also, keep in mind that If you do try to shorten the process, make sure you do not use too many fields in a single step.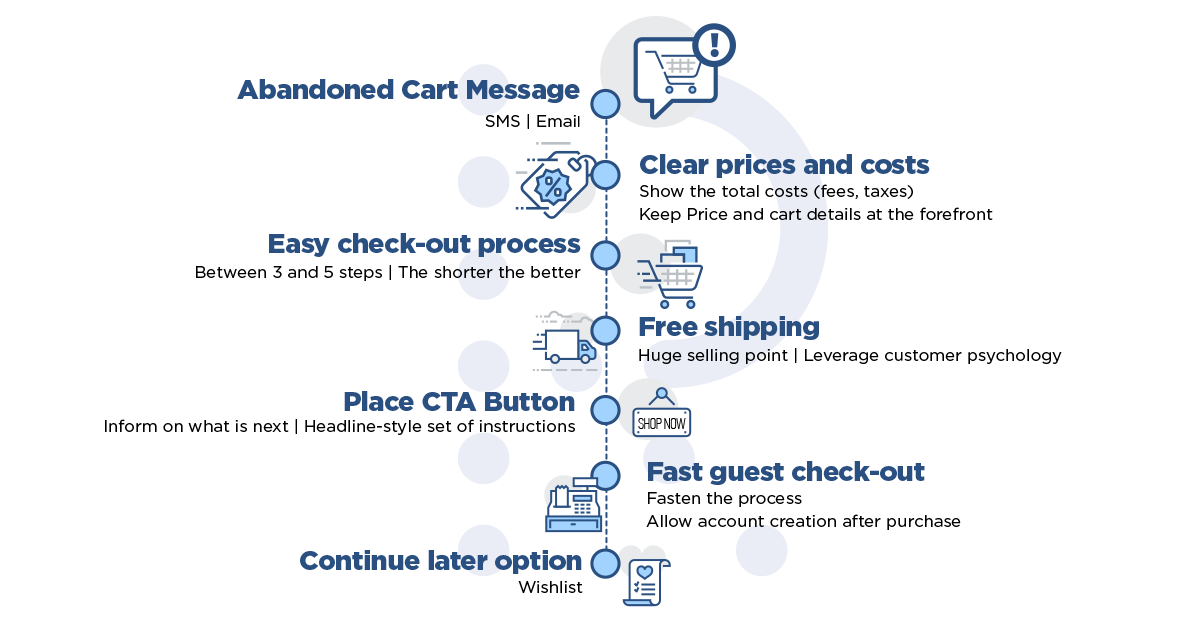 4. Offer free shipping
Shipping costs are one of the most popular reasons that lead to shopping cart abandonment. If it is possible for your business, you may consider covering the shipping cost yourself. This makes a big difference in customer psychology when your online visitors are viewing their checkout forms. A lot of successful online retailers use free shipping in order to reduce their cart abandonment rates.
5. Remember to place calls to action
Calls to Action (CTA) are critical to use in your shopping cart. They are as important as anything. Consumers want to know what is next, and it is up to you to tell them what to do. Create simple, step-by-step instructions for the whole checkout process.
6. Make guest checkout possible
The more you ask visitors during the checkout process to create an account before they check out on your order form, the more likely they are to abandon the shopping cart. Allowing customers to checkout also helps speed up the process. And, you can always ask people to register for an account after they have completed their purchase.
7. Give customers the option to continue later
A lot of people seem to abandon their carts, but what they are doing is using them as a wishlist for things they are interested in or they want to buy later. Give your customers the option to easily create a wishlist, so that they can come back and buy later. That way you get to lower your abandonment rates and they get the time they need.
Get Started!
There will always be customers that will abandon their carts, and you are going to have to accept it to some extent, but you can work to measure the impact and continuously refine to reduce shopping cart abandonment, starting by following these pro tips.
Grow your business with Routee's Marketing Automation Services