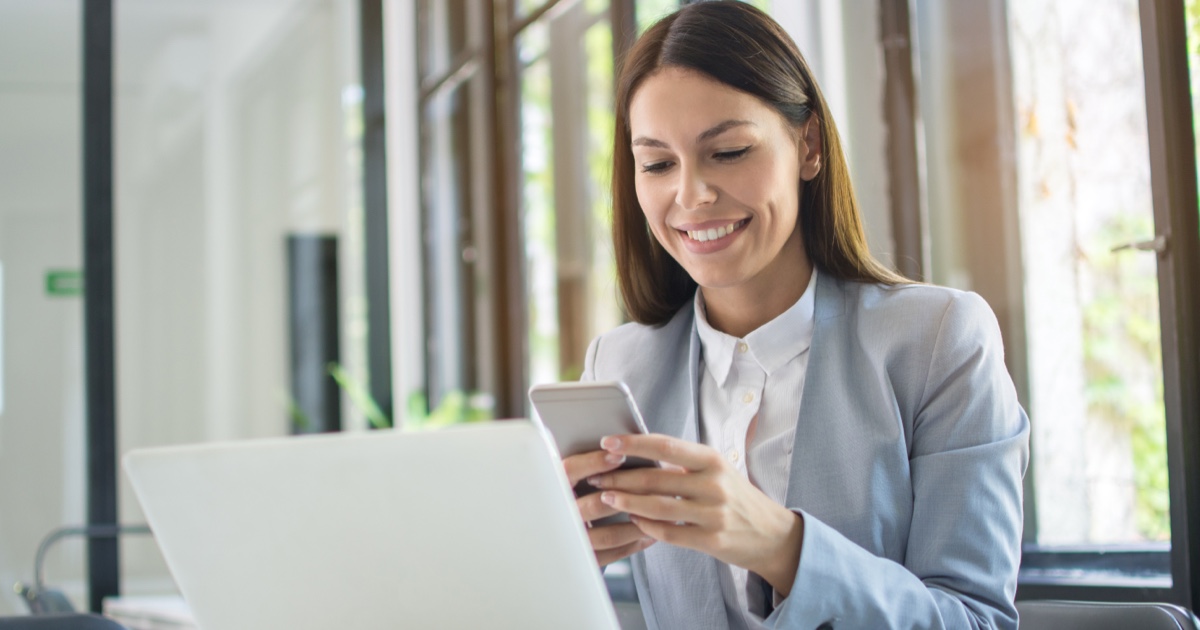 An introduction to Viber Messaging and its benefits
Reading Time:
4
minutes
What is Viber Messaging?
Let's start with the basics.
Viber Business Messaging allows businesses to communicate, either 1-way or 2-way, with customers who have subscribed to them, through their channel of choice.
Through these messages customers can directly contact the banks, brands, retailers, you name it, that they have subscribed to. They can receive information and status updates regarding their favorite services and on the other hand, brands can communicate with them using rich media, such as images, videos, and documents. All this through a verified business account (indicated with a blue tick beside the business name).
With 7 million interactions happening every minute, more than 1 billion users, and 260 million monthly active users, no one can deny that Viber is an ultra-popular communication channel and one of the top 10 downloaded apps of all time. It is way cheaper than SMS, yet it allows you to do so much more. So, let's dig deeper and get a better understanding of the channel.
Types of Viber Business Messages:
Depending on your business needs Viber Business Messages are divided into 3 main types:
1. Conversational messages can be used by customers to interact with your brand. This type of Viber message is completely free and there are no limitations on messaging or amount of contacts. They are widely used to connect customers with your customer care, offer products and services and collect feedback and reviews.
2. Transactional messages can be used to inform regarding an account balance or to offer a delivery status update. Their purpose is to deliver useful information to the user, avoiding any display of marketing content. They may contain plain text or hyperlinks.
3. Promotional messages are designed to promote new products and discounts or special offers. These are messages whose goal is to motivate customers to shop. They may contain emoticons, images and/or buttons.
The Benefits of Viber Messaging
1. Reach a wider audience
We will just let the numbers do the talking.
Viber is one of those widely popular messaging apps used by over a billion unique users worldwide and every minute 7 Million Interactions take place on the platform.
As the numbers suggest the platform is an online space that is already massively popular, with users heavily relying on it in their daily lives. Therefore, it becomes more than clear that such penetration and user familiarity means its potential for brands is substantial too. Using Viber for business will help you reach users and customers directly, right where they are, doing what they always do, texting with their mobile phones. And joining the conversation is one of the most personal ways of communicating with your audience, making it even more effective.
2. More engagement, more personalization and more conversions
It goes without saying that people are more likely to engage with a message from a contact they know and trust.
Viber Business Messages makes sure of that. It puts your company's logo on your Viber profile, while through its rich media features it helps you craft nice, compelling messages, which include a call-to-action button at the bottom and can lead people to your website, increasing conversions and enjoying up to 50% click-through rate.
By using Viber as your messaging channel, you don't only increase engagement and conversions but can also design, manage and maintain personalized 1:1 conversations.Υou can converse with your audience in a targeted and personalized way and gain access to accurate insights about how your message resonated with your audience, and what you should do to improve it.
You can then offer guided selling where consumers are steered to products they might be interested in and promote the latest deals and offers based on the customer's buying history.

3. Guaranteed message delivery and cost control
The delivery of your message is guaranteed with Viber, using fallback to SMS. So, your business can achieve a near 100% delivery rate. Even those contacts who didn't receive the message in Viber (e.g. no wifi) will get it shortened in the form of a simple SMS, ensuring your message gets delivered on time, every time.
Αdditionally, it's important to point out that you only pay when a message is delivered and reaches its destination, not just when it's sent, ensuring that your costs stay under control.
4. Enrich content and enhance branding
Viber enables brands to include rich media in any of their messages. Through the creation of compelling messages, you can attract attention to your brand and generate interest in your products. From images, videos, GIFs and more, you can incorporate them all into your message, without fear of character limitations or high charges.
By creatively engaging with customers through visuals and enriched functionality, Viber enables a business to elevate brand awareness while providing unique and user-defined customer experiences.
Finally, another way Viber can enhance your branding is by displaying the company name and verified badge on the user's mobile screen, which also offers reassurance to the consumer.
5. Trust and Loyalty
Viber is known to be one of the most secure and privacy driven messaging apps out there. All messages between your business, Viber and your users are end-to-end encrypted since data sent via Viber can only be accessed by the sender and receiver and does not stay stored on Viber's servers.
Additionally, user correspondence is only stored on Viber servers during message transmission, therefore ensuring compliance with GDPR requirements.
The advanced security features of the app have greatly impacted users' trust and loyalty to your brand.
To sum up
As Viber continues to grow in popularity, this is where your customers will be and you have to be there with them. Viber can offer your business huge potential and possibilities to have valuable and rich conversations with your customers. Don't miss the opportunity to engage with them. However, delivering on such potential is not always easy. That is why many companies choose to partner with a company that guides them through the process. It is time you get started with Viber Business Messaging.
Grow your business with Routee's Viber Business Messaging Services