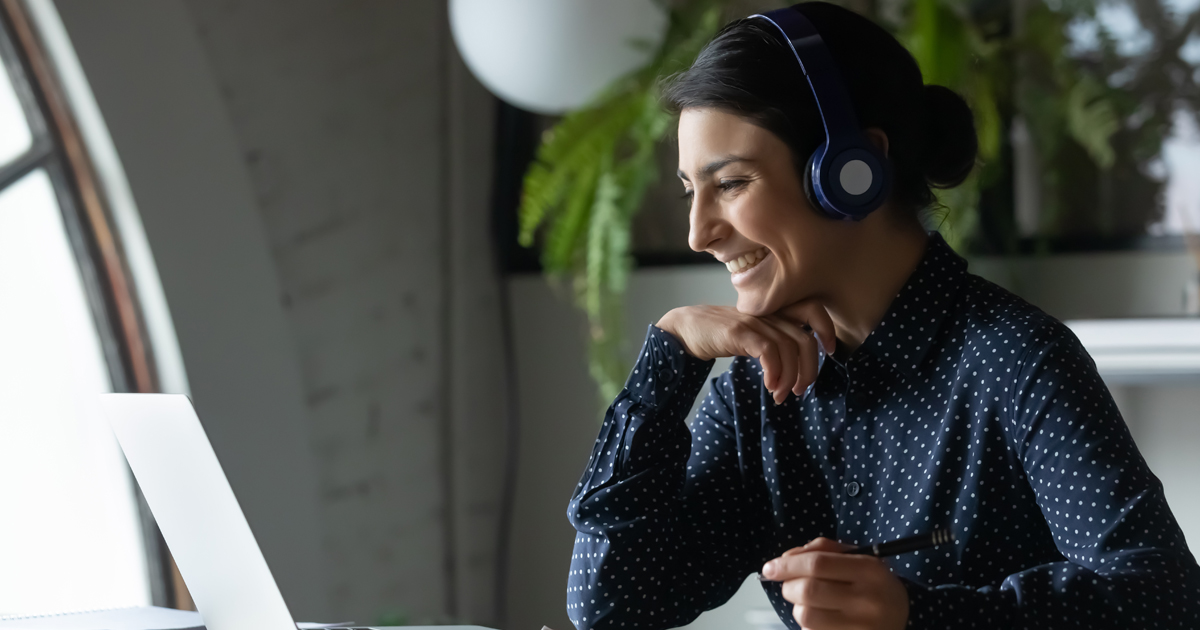 Virtual events are growing. How can VoIP step up?
Reading Time:
5
minutes
Nothing in the events industry will be the same as before the Covid-19 pandemic. In 2018, the global events industry was valued at more than $1.1 billion and was expected to grow at a rate of 10.3% to reach $2.3 billion by 2026. As the pandemic still looms, those projections have changed, with the number of organizations that planned virtual events nearly doubling in 2020.
Despite in-person experiences being the foundation of the events industry, virtual events technology opened a new door for businesses in the industry. Over the past year, several companies had to postpone or cancel their events. However, some companies decided to go virtual, taking the complete event experience online with speakers, sponsors, and participants joining remotely.
Meeting technology is now more accessible and sophisticated than ever, offering many engaging options and giving smaller businesses with smaller budgets the ability to expand globally. According to a survey by PCMA, 7 out of 10 respondents have moved their face-to-face event partially or fully to a virtual platform, and many see this hybrid model as something that will continue alongside in-person events even after the pandemic.
Types of virtual events
If you are wondering whether all events can be delivered remotely, the answer is yes!
With the current technology, anything can be delivered virtually. Whether that is a webinar, a scientific session or workshop, even exhibitions.
Although formats of virtual events vary, we can typically separate them into five types, which differ from each other in terms of location and interaction levels:
1. Centralized broadcasting from a single location. No interaction with the audience.

2. Centralized broadcasting from a single location. Full interaction with the audience.

3. Centralized broadcasting from a single location. Limited interaction with the audience. (e.g., only some of the attendees can interact).

4. Broadcasting from multiple locations. No interaction with the audience.

5. Broadcasting from multiple locations. Multiple audience interactions.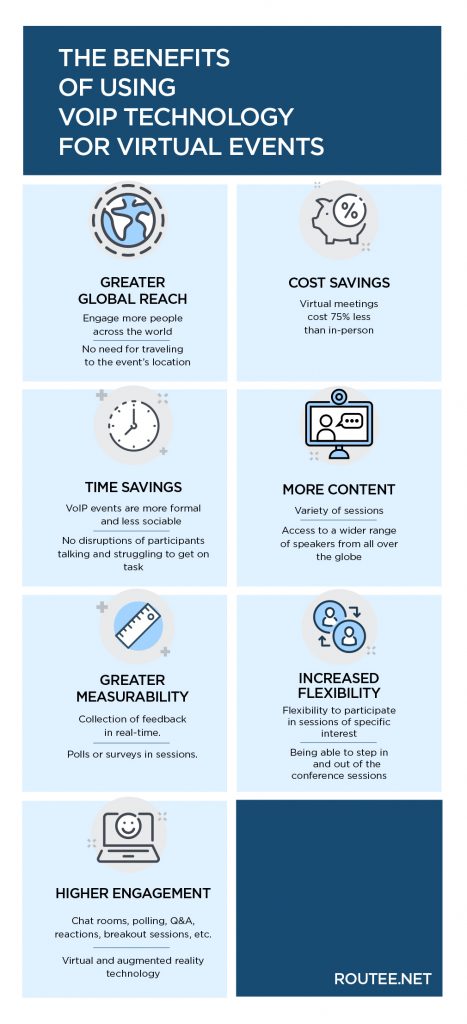 The benefits of using VoIP technology for virtual events
There are many ways VoIP Technology has made virtual events better, stepping up to save the events industry. Some of the biggest benefits are listed below.
Greater global reach
Greater reach and a more global audience is surely a great advantage of virtual events. You have always tried to increase your event's reach to engage more people and now you can easily achieve this. Just by sharing the link on your website or social media accounts, you can promote your event and people from across the world can join instantly, without thinking about traveling to the event's location.
Cost savings
On the topic of fewer costs, one of the biggest benefits of using VoIP to conduct virtual events is that it can save you a lot of money. As long as they are strategically planned using the right technologies, virtual events can reach a much wider audience than traditional live events, for a far lesser cost. You do not have to pay to transport or accommodate speakers or attendees. On average, virtual meetings cost 75% less than in-person.
With businesses saving money by not investing in in-person events, they will have plenty of resources to begin experimenting with new digital experiences.
Time savings
Another benefit of holding virtual events with remote technology is that it saves a lot of time. Your participants can start the meeting a lot more quickly since they do not have to take the time to physically visit the destination.
Also, since VoIP events are more formal and less sociable, they tend to run much more efficiently. You do not have to wait for attendees to get back after their lunch break or deal with disruptions of participants talking and struggling to get on task.
More content
Organizers have access to a wider range of speakers given that there is no travel involved. That means you can offer a variety of sessions and facilitate the delivery of variant topics, to appeal to a greater audience. The content of your event can be broad and deep enough to appeal to all types of attendees. For example, some attendees may want to hear about the company strategy and attend roadmap sessions, while others may prefer to talk with product experts. Others may want to focus on expanding their skill set through training classes enhanced with an element of gamification.
Greater measurability
In the pre-Covid-19 era, you would hand out feedback forms close to the end of your event so attendees could voice their opinion. Nowadays, with the rise of virtual events, technology facilitates the collection of feedback in real-time.
Attendees are steadily online, which means they can easily answer real-time polls or surveys in sessions. Not only will this real-time feedback help presenters gain an understanding of how their session is going (especially valuable as presenters sometimes cannot see attendees' faces and reactions), but it will also allow for continuous improvement both during and after the event.
Increased flexibility
All you need to host a video conference is a computer or mobile device, an internet connection, and an account in a simple online communication platform. How you broadcast your event is also flexible. Whether you are hosting a thought leadership conference, a sales kickoff, or another type of event, you can choose to invite as many guest speakers as you like, make the sessions interactive, offer different language options, use gamification, and much more.
On the other hand, virtual events offer attendees the flexibility to participate in sessions of specific interest to them, being able to step in and out of the conference sessions based on interest level and time constraints, without interrupting anyone watching. Their level of engagement is truly up to them.
Higher engagement
Τhere are plenty of ways to engage your audience during a virtual event. Although one of the main benefits of an in-person event is interaction, online events can also offer an informative and interactive experience to attendees from the comfort of their home or office. Virtual events software already offers attendees a myriad of interactive experiences, including chat rooms, polling, Q&A, reactions, breakout sessions, and more.
As the virtual events industry grows, more and more conferences and businesses will begin to integrate virtual and augmented reality technology into their online conferences, to recreate the feeling of attending the event in-person.
Start planning for your next virtual or hybrid event
Since the Covid-19 outbreak, the interest in virtual events has certainly peaked. The benefits VoIP Technology offers to the events industry can be applied to the world of meetings and events even after the end of travel bans and gathering restrictions. Event planners need to embrace innovation and prepare for a new industry landscape. Now is the time to do that, by devising innovative strategies that can deliver engagement and meet objectives with virtual or hybrid events.
Find out more on Trends 2021: VoIP is the future of voice communication.
Grow your business with Routee's Voice Services