6 smart ways to harvest phone numbers for your SMS marketing campaigns
Reading Time:
2
minutes
In our blog, we have repeatedly addressed the power and immediacy of text messaging and how it benefits a business, regardless of the business's location, industry, and seasonality. SMS marketing is suitable for any company, any season, any audience. We have established that SMS is a marketing channel any business should consider consolidating to its marketing toolbox.
But how can you collect these valuable phone numbers from your prospective customers and current customers? And equally important, how can you get your audience to opt-in to receive SMS messages from your business?
Why do you need your audience's consent before sending them a promotional SMS?
Apart from the fact that it is common sense to ask for permission before communicating with a recipient, every country has its set of regulations and restrictions when it comes to business-to-consumer communication or even business-to-business communication. Texting recipients without their permission is an invasion of privacy. In many countries, it is even against the law. According to the US Mobile Marketing Association, mobile marketers have to respect the right of users to control which messages they receive. Users must opt-in to programs via SMS, MMS, website registration, and other legitimate methods. So, businesses must have consent from the recipient before sending a text. The permission comes in the form of an opt-in, written consent by the customer.
For example, in the US, SMS marketing campaigns must comply with the Telephone Consumer Protection Act (TCPA), a law passed to ensure that consumers would not be overburdened with spam from businesses. To comply with this specific law, you need to receive consent from the customer, mention your company's name, let the customer know the value of opting in to your list, notify the customer about any possible text messaging fees, and include the option to opt-out of any future texts. Violating these TCPA guidelines can result in fines of $500 for every text. Typically, businesses handle all this by sending an opening message, such as "Please reply YES to receive news and offers from [BusinessNames]. Standard messaging and data rates apply. If you prefer not to receive text messages, reply NO."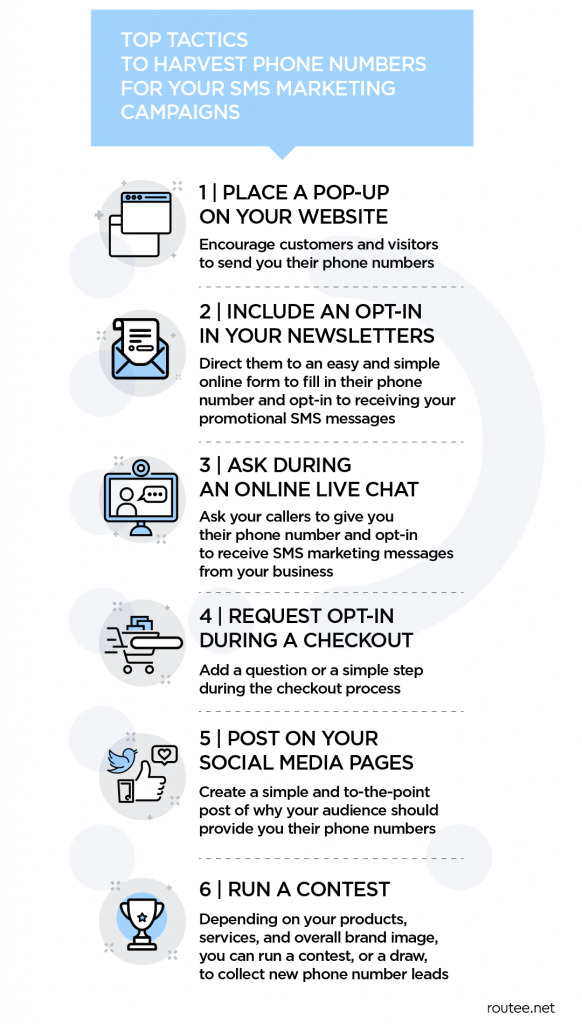 Top tactics to harvest phone numbers for your SMS marketing campaigns
Now that we have established that you should always have the recipients' consent before sending them any promotional text message, let us see some of the most popular tactics that you can use to get customers and prospects to give you their phone numbers.
Place a pop-up on your website
Leverage your website's traffic and place an engaging pop-up on your homepage, or on one of your most-visited website pages to encourage customers and visitors to send you their phone numbers. Keep the pop-up message short and to the point. Try not to abruptly interrupt your website's user experience with this pop-up. Check out our blog article on how you can build successful pop-ups for your website.
Include an opt-in in your newsletters
A great place to ask your customers and prospects for their phone numbers is through your email newsletter. The recipients of your email newsletter are already engaged with your business so you can promote sign-up for your SMS messaging list. Let them know what they will gain by signing up for your SMS marketing list. If your email recipients list is not that long, you can always ask the subscribers to simply reply to your email newsletter with their phone number details. However, if you have an extensive email list, we advise you to direct them to an easy and simple online form to fill in their phone number and opt-in to receiving your promotional SMS messages. Building an online form is not an overwhelming process, on the contrary, it is a very easy and straightforward procedure. For example, you can check out Routee's form builder to see how easy it is to create a simple form to collect your email subscribers' phone numbers.
Ask during an online live chat
Put in action all the live chat customer touchpoints you have available for communicating with your audiences. Use your website live chat or your messaging app chat option (Facebook messenger, Viber, or WhatsApp) and ask your callers to give you their phone number and opt-in to receive SMS marketing messages from your business. Make sure that you explain to your audience what exactly they will receive from your business and in what frequency. In case you employ a chatbot solution for your live chat with customers and prospects, then configure the bot to ask for their phone numbers at the end of their communication and make it clear that they can opt-out any time they want.
Request opt-in during a checkout
Reach your customers at the most converting and engaging moment of the customer journey, their shopping cart checkout process. Add a question or a simple step during the checkout process -but try not to burden customers with additional screens as much as possible- and trigger them to opt-in to receiving your promotional SMS messages for an extra 5% discount during their next purchase or any other incentive you deem valuable for them and cost-effective for your business. You can highlight the value of being part of your SMS marketing list without providing them any additional discount if you want to refrain from giving extra discounts. Make sure that your customers understand why they will benefit from opting-in to receiving promotional SMS messages from your business; be it that they will be getting valuable offers and deals by opting-in, or that they will have exclusive access to premium products or services, and so on.
Post on your social media pages
It does not get any simpler than this. Create a simple and to-the-point post of why your audience should provide you their phone numbers, what they will gain by receiving promotional SMS messages from your business, and enable them to email their phone number details, or simply send you a message on any of the messaging apps you use (e.g., Facebook Messenger, WhatsApp, LinkedIn direct message, etc.). Keep in mind that, although social media is a great way to promote your phone number harvest campaign, most people do not feel very comfortable sharing their phone number in public, so make sure that you give them options to send you their phone number privately and securely. That is why we suggest that the best option is to link to an online form either on your website or on any other online form builder where users can privately and securely opt-in to your SMS list.
Run a contest
Depending on your products, services, and overall brand image, you can run a contest, or a draw, to collect new phone number leads. You can incentivize your audience to give you their phone numbers to participate in the contest. Participants get the chance to win a prize (e.g., a free product or service), but make sure that you clarify that their phone number will be used to send them promotional SMS messages, that their participation in the contest/draw is also a consent to receive promotional text messages from your business. Always give them the option to opt-out anytime they want and make this clear from the beginning.
What's next for your business?
To wrap up, make sure that before you start sending promotional text messages to your audience you follow the opt-in rules. Keep in mind that opt-in SMS marketing is a permission-based activity. Remember that you must include instructions on how your customers and recipients can opt-out of your SMS service and unsubscribe at any time, give them the option to ask for further information or clarifications about the promotional text messages they will receive from your business (e.g., the types of text messages, the frequency, and so on), and always keep them informed and updated if any message and data rate apply to them. Being direct and truthful to your audience enables your business to build trust, trust creates loyalty and loyalty breeds conversions!
Check out some of our previous blog articles for more details on how SMS marketing can benefit your business and discover useful tactics and ideas:
Grow your business with Routee's SMS Marketing Services